Visitors come to Fort Wayne for both business and pleasure. If you're in town for the former, it's a good idea to get the scoop on the best places to get things done. As a freelance writer myself, I spend a significant portion of my day offsite.
I find I get my best work done when there's some background noise and the opportunity for interaction. Here are a few of my favorite spots to get my work on: The Friendly Fox: This quaint cafe just southeast of downtown is welcoming all hours of the day. A popular spot for people from the neighborhood, it has a "Cheers" like feeling. Locally owned and operated, the Fox serves an assortment of salads, soups, pastries and sandwiches. Their back room is available to the public when not reserved.
Downtown Library: There is plenty of table space to set up shop here. And did I mention quiet? They also have a onsite cafe, so you can refuel when needed.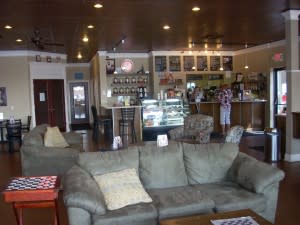 Mocha Lounge: Located on the southwest side of town, Mocha Lounge is a bit of a best kept secret. This place is just as much about the atmosphere as it is the food/coffee. Think a fireplace, comfy chairs and artistic details.
Firefly Coffee House: A favorite of students, The Firefly boasts a semi-private alcove with comfortable seating. (Oh and of course coffee and tasty food.) Reward yourself for a hard day's work by purchasing one of their handmade items from local artists,  on display.
Old Crown:  Located a few doors down from The Firefly, this cafe/coffeehouse has a quirky feel you won't find at Starbuck's. They always have local art, which adds to the flavor. The bright colors provide a pick-me-up, too.
Fort Wayne International Airport: Although it's not a regular destination for me, I appreciate the amenities when I fly out of here. Upstairs, business travelers will appreciate the business center's facelift that includes improved wall seating. Passengers should have no trouble finding an outlet in the computer pod area or in the lounge area. In fact, there are more outlets per square foot than the average house.
So, you have options when it comes to finding a place to work remotely. Wherever you go, I'm confident you'll find the people to be friendly. That's Midwestern charm, for you!