Here's one for all you women who love Ma Nature and the outdoor sports! The National Wild Turkey Federation's annual Women in the Outdoors program is coming to Fort Wayne on June 8, 2013, according to the local coordinator Charita Niedermeyer of the local Three Rivers Chapter, which is celebrating its 8th year of the popular event. "This is an all-day occasion with hands-on activities and many classes," said Niedermeyer.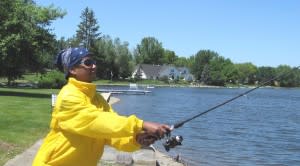 The program began in 1998, with only 1,000 women attending 18 classes; last year more than 20,000 women attended, with more than 130 events! Registration includes a continental breakfast, lunch, any four classes, a one-year Women in the Outdoors membership and Turkey Country magazine subscription.
The outdoor fun will run from 7:30 a.m. to 5:30 p.m. on June 8, 2013 at the Izaak Walton League, 17100 Griffin Road, Huntertown, IN 46748. Door prizes, gifts and a Silent Auction will also be present, so bringing extra money or a credit card is encouraged. For more info, call 260 484 6041 or email Niedermeyer at thehuntress98@hotmail.com. Courses this year include Bird-watching, Let's Go Fishing!, Firearms Safety, Fur Processing and Tanning, Fish I.D. via Electrofishing, Archery Tag (a new interactive combat sport), Wild Wreath Making, Basic Self-Defense, Dog Psychology & Obedience, Melt-and-Pour Soap Making, Disc Golf, Outdoor Cooking, Tomahawk Throwing, Knife Making & Sharpening, Wine-Making at Home, Disc Golf, Shotgunning, and much more. Hope to see you there! Don't forget to bring a camera, sunblock, OFF and a poncho, as the event will go on, regardless of the weather!