Whether you're a lover of classical music or theatre, 
33 Variations
 will take the audience on two simultaneous journeys-one following modern day musicologist, Dr. Katherine Brandt, as she digs to uncover the meaning behind Beethoven's 
Diabelli Variations
; the other examining Beethoven and his creative process composing the piece in 1819 Vienna. Katherine (portrayed by Julie Donnell) has been diagnosed with ALS-motivating her to complete her research while there is still time. Her disease runs parallel to Beethoven (portrayed by Stuart Hepler), his obsession with Diabelli's simple waltz and his growing deafness.
Nominated for five Tony Awards during its run on Broadway, this play explores topics of passion, parenthood and transformational moments of beauty inspired by music. During its time in New York, it featured well-known actress Jane Fonda in the role of Katherine. You can find the Civic's complete cast list below, but I will say that the production features some of my personal favorites-Eileen Ahlersmeyer and Susan Domer. If their performances in 33 Variations are similar to any of their work in the past, the audience is in for a real treat!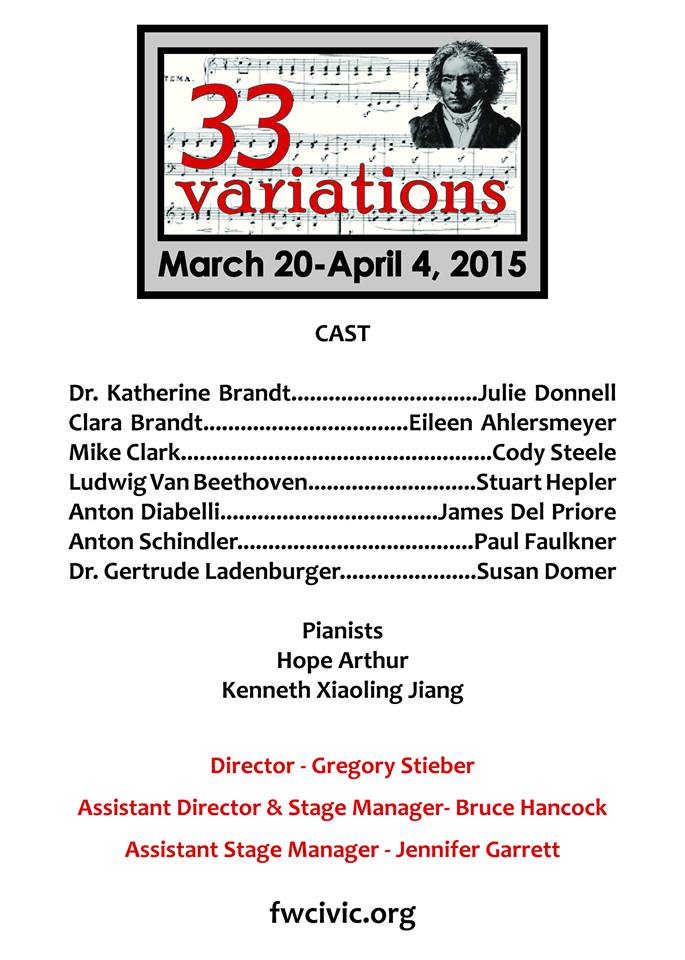 Director Gregory Stieber returns to the Civic after directing a Fort Wayne favorite, Les Misérables, last season. As a director, Stieber forms a special connection with each of his cast members, allowing the show to develop and blossom in a unique way. The result is an expertly crafted experience-something that invites you in, allows you to live within the story and leaves you feeling satisfied. Of course, this production takes place in the Arts United Center's latest addition-a black box theatre.
If you have yet to witness a production at the Auer Center ArtsLab, I would highly recommend the experience. The intimate space transforms into a theatrical stage effortlessly and allows an intimacy that is unlike any other theatre in Fort Wayne. However, with a fewer number of tickets available per show, productions in this space are constantly in high demand. You can get your tickets by calling the ArtsTix Community Box Office at 260-422-4226 or by visit their website, linked here.
Performance Dates:
Friday, March 20 @ 8:00 PM
Saturday, March 21 @ 8:00 PM
Sunday, March 22 @ 2:00 PM
Thursday, March 26 @ 7:30 PM
Friday, March 27 @ 8:00 PM
Saturday, March 28 @ 8:00 PM
Sunday, March 29 @ 2:00 PM
Thursday, April 2 @ 7:30 PM
Friday, April 3 @ 8:00 PM
Saturday, April 4 @ 8:00 PM
 Don't miss out on another elaborate Civic Theatre production, and you can even win tickets! &nbs