While a festival seems most suitable for summer temperatures, many cities across the globe host festivals in Winter.  Quebec City has a winter carnival (complete with camping - oh my!), Harbin, China has a snow and ice festival, and they celebrate Winterlude in Ottawa, Ontario.  Luckily, here in Fort Wayne, we don't have to sit Winter out either - we have Winterval!  Winterval, Fort Wayne's celebration of winter, is back for its fifth year on January 30, from 10 am-4 pm.
Fort Wayne Parks and Recreation has planned a varied line-up of events.  Ice carving demonstrations, a rugby game, a dinosaur display at the Botanical Gardens, events at the main library and Science Central,  a re-enactment of a 1756 French Garrison at The Old Fort, carriage rides at the Community Center, a figure skating exhibition at Headwaters Park, and much more.
I took my son and my nephew to Winterval last year; we enjoyed all the events we attended, but, the best part was the ice carving.  Imagine a guy with a chainsaw staring down a 300 lb. block of ice.  Now imagine ice shavings from the saw flying about and the transformation of an ice rectangle into a detailed sculpture.  It was a unique sight.  And we weren't the only ones impressed - watching the man work his craft was mesmerizing for the whole crowd. 
We also played games at the Community Center (ice fishing, anyone?), and paid a visit to the Old Fort, which gets some of the best re-enactors for its demonstrations.  And while all the events are popular, according to the Parks Department, the winter carnival is one of the most well-attended events because, "It's free and a fun way for kids to burn off excess energy, and it comes at a time when everyone is starting to feel those winter blahs."
Too, you don't have to wait until January 30th to get in on the Winterval fun - there will be a penguin hunt in the days leading up to the event.  Check www.majic951.com for clues on where the penguin is hiding that day.  Once you find the penguin, take a picture, and upload it to Facebook.  You will be entered into the daily prize drawing.
Don't stay home all winter.  Get outdoors, be active, and come to Fort Wayne's Winter party.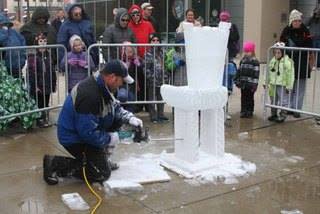 <