The newest market in town is set for a great start in 2014. Winterfest Market began in the fall and will be in full swing this year through May! Winterfest Market takes place on the second and fourth Saturdays of each month through May 10 at the Karpeles Manuscript Library, located at 2410 Fairfield, on Fort Wayne's south side. The market runs from 10 a.m. to 2 p.m.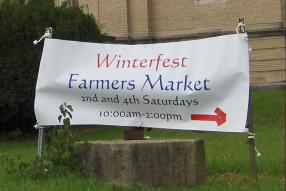 Here you will find locally grown produce, jams and jellies, coffee, baked goods, spices and more. The market is not limited to food though.
Vendors also sell crafts and homemade items such as soaps, lotions, jewelry and other items. Help support this market in it's first year by attending, and support the local regional economy through your purchase. Follow the Winterfest Market on Facebook to stay updated on vendor offerings and cancellations if weather is inclement. Alternatively you can email or call market organizers at 260.420.1943 or winterfestfortwayne@gmail.com. Insider Tip: Also, while you are there consider a separate visit just to the museum. For more information the Karpeles Manuscript Library and the rich history this museum has to offer check out Kayleen's post.