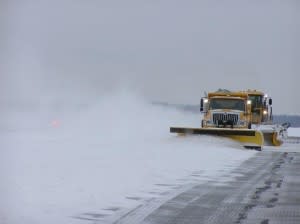 Winter weather is fast approaching, and while we've already seen our first snowfall, we can only assume there is plenty more to come! Traveling can be stressful enough on its own, but add in cold temperatures, freezing rain and snow, and your trip to the airport can be even more nerve-racking. But, here at
Fort Wayne International Airport
, we make sure we do all that we can to make sure you get from point A to point B with as little stress as possible! When it comes to winter weather, our maintenance department is preparing almost year round. The maintenance team begins preventative maintenance work on our snow removal equipment in May and continues it all summer long. Each piece of machinery is looked over and given some TLC, with all 23 pieces of snow removal equipment going through inspection by November 1. Training for our maintenance staff begins in October and includes both classroom refresher courses, and hands-on work with the different machinery. This training includes going over things such as practices and policies of removing snow from the airfield and other areas on FWA property, on-call procedures, emergency preparedness, crew alignment and rotation.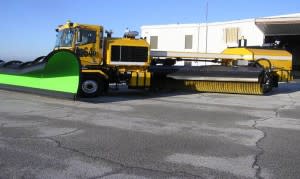 Once snow is on the ground, our maintenance team knows to be ready to go whenever the weather could turn a little frightful. Once we see snow start to fall, our team keeps a close eye on just how much accumulation we are seeing. Snow removal begins on the pavement areas once ¼ of an inch has fallen. The goal is to keep the snow from getting to 1 inch or higher, because once 2 or more inches of snow has fallen on any area of the airfield, it must be closed to traffic. This is where delays and cancellations of flights begin to be an issue. The FWA maintenance staff also maintains eight miles of roadways, both land-side and air-side, for our tenants and the general public. This includes everything from keeping roads leading to the airport clear, to putting down salt in icy conditions, and keeping the sidewalks at the terminal building shoveled. Our maintenance staff gets some help from our wonderful custodians, operations staff, and our Customer Service Agents. In addition to snow removal and keeping the airfield up and running, FWA also provides services to our passengers during times of inclement weather. Our CSAs are on-hand to assist you during winter weather, and any other time of the year! If trudging through the snow, or fighting the cold on the way to or from the terminal doesn't sound appealing, schedule a pick-up and one of our friendly Customer Service Agents will come get you and your luggage. To make it even better, this service is completely complimentary! You can schedule a pick-up in advance by filling out a short form on our website,
fwairport.com
, or you can call when you arrive by calling the CSAs directly at 260.458.4017. For more information on Fort Wayne International Airport, visit our
website
, or give us a call at 260.747.1762. Happy flying, and thank you for choosing FWA!