Looking to wander local woods and wetlands this winter? You aren't alone. Winter hiking holds a flavor all its own in Fort Wayne, Indiana. With leaves down and snow on the ground, you can see the landscape, make new discoveries and find invigoration in the brisk air.
ACRES preserves hold many opportunities for hikes with your crew this winter. You can bring your pup, too, so long as it is always on a leash and you stay on preserve trails. With more than 70 miles of trails open dawn to dusk at no charge throughout the region, ACRES gives you the chance to appreciate our varied local natural places.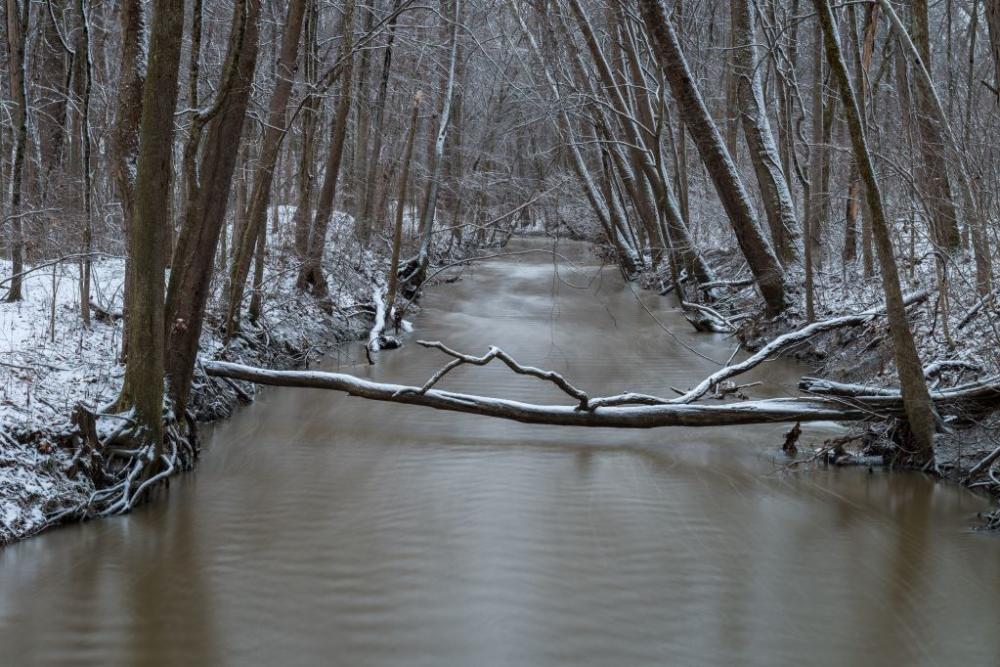 A Winter Hike For Every Interest in Fort Wayne, Indiana
The Cedar Creek Corridor
You can explore one or many of these trails in protected places along Cedar Creek, our region's largest natural riparian corridor and one of only three state-designated Scenic and Natural Rivers. Cedar Creek in northern Allen County is home to mink, otters, Great Blue Herons, Pileated Woodpeckers and more.
Enjoy the Cedar Creek corridor from Bicentennial Woods' much-loved rolling hills along picturesque Willow Creek, a tributary of Cedar Creek, to the 80-foot ravine at Tom and Jane Dustin Nature Preserve and the steep, twisting climbs at Vandolah Nature Preserve, you'll find an engaging hike awaits you.
Allen County Parks protect a portion of Cedar Creek Corridor at Metea County Park, where you can hike Metea North or Metea South on either side of the creek. Here, a total of five miles of trails winds through woods, wetlands, and reconstructed prairie.
Metea offers restrooms and more in the Gloria Goeglein Nature Center, open from 10 am – 6 pm in the winter (open at 9 am on Saturdays and Sundays). Expect a small gate fee to cover the county's expenses: $2 for folks over 7; 7 and under free.
In the city limits: Fort Wayne Preserves
Fort Wayne Parks' Lindenwood Nature Preserve, open dawn to dusk daily, features another woodland getaway within city limits. At Lindenwood, the Trail of Reflection is wheelchair and stroller accessible for 1/2 mile from the trailhead to the pond.
Don't let ACRES' seemingly unassuming Mengerson Nature Reserve on Stellhorn fool you. Preserve visitors will tell you, a walk in this woods holds wonders all year – including a boardwalk through forested wetlands featuring giant oaks and maples.
ACRES' Fogwell Forest holds a similar surprise, just south of the city, off the airport expressway. Here, you'll find open grasslands and a forested hike for two distinct experiences. Fogwell Forest boasts giant beech and maple trees in this part old-growth forest.
Little River Watershed
Little River Wetlands offers trails and guided hikes in the historic watershed of the Little River, a major tributary of the Wabash River, in southwest Fort Wayne and through Huntington. Eagle Marsh, LRWP's most popular preserve, is home to a wide variety of wildlife, in all seasons. You might spot otter tracks, deer, and more waterfowl than we can name – and, too, a variety of hikers and Fort Wayne Trails' bikers enjoying this local gem. Eagle Marsh is active!
While you're in the area, you can explore ACRES' Little River watershed preserves: Cypress Meadows, and Fogwell Forest for more trail time.
Want more? Visit acreslandtrust.org/preserves and choose Allen County to see what local adventures await!