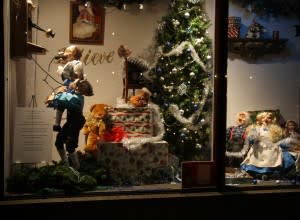 There's just a touch of snow in the air – that frosty nip that makes you think of tinsel and pine  and warm cinnamon. That means its Christmas time here in Fort Wayne, and Christmas time means light displays. While there are a dizzying variety of illuminations and inflatables that you can use to decorate your own home, downtown Fort Wayne also has a great display of holiday spirit.  And what's even better – you can take yourself on the guided tour for free, in the comfort of your warm car! Maybe the most iconic light displays here are the Santa and Reindeer that are displayed on the side of PNC Bank building (Main and Calhoun) and the Merry Christmas wreath that glows from One Summit Square (Wayne and Calhoun). Both decorations have been illuminating the downtown season since about 1937, when they were first displayed by the old Wolf and Dessauer department store.  
A convenient parking lot, right next to the Santa display, has plenty of room for viewers who want to pull over, snap a few pictures, and let the kids soak in the warm, golden light from blinking reindeer and Rudolph's red nose. Another thoughtful treat is the Harrison Street Animated window display. These large picture windows, set into the walls of the Indiana Hotel Lobby and Embassy Theatre, are illuminated and filled with characters that illustrate various scenes. One window is devoted to a Nativity crèche, while different vignettes fill the other sidewalk-level windows. Stroll past on foot, or drive around the block a few times to soak in all the details!
The Foellinger-Freimann Botanical Conservatory will have their own display on Jefferson Boulevard, west of Calhoun Street.  Their small, brilliant lights blink and twinkle just across the street from the Cathedral of the Immaculate Conception. The Cathedral, too, has  a special holiday luminescence, complete with green wreaths and brilliant white lights. While the church is always magnificently illuminated year round, there's just something about this season that touches the church with a special glow.
One last thing to mention – in the center of downtown Fort Wayne, you see the Lincoln Tower (116 East Berry). One of Fort Wayne's early skyscrapers, this art-deco building seems to stretch upwards for miles. And in the winter at night, the windows of the tower are warmed by the light of tiny electric candles. Truly, each little light makes the tower shine. Make your time looking at the beautiful lights a whole evening! Check out Visit Fort Wayne for places to eat, shows and other events that are going on, and HolidayFest events and activities!