We have a great way to bypass the January blahs, whether for romance, historical interest, celebrations, or just plain something different and fun!
Consider taking an evening one-horse open carriage ride in downtown Fort Wayne and seeing the sights with Rosewood Carriage Rides, Inc. (260.637.5261) 
Want a neat way to spring a proposal to your sweetheart? Give her a moment she'll never forget, under starry heavens with a gorgeous Percheron draft horse as the best man and an elegantly suited Coachman as ring bearer. (P.S. Valentine's Day is coming up!)
These beautiful immaculate carriages have tops that come down for an enclosed ride as protection from the elements, and they are available year-round, according to Kolette Frazier, owner.
"Rosewood Carriage Rides is always ready to make a special memory for someone," said Frazier, who uses Percherons, Shires and Belgians, and miniature horses (for a child's birthday party favorite) to pull the carriages.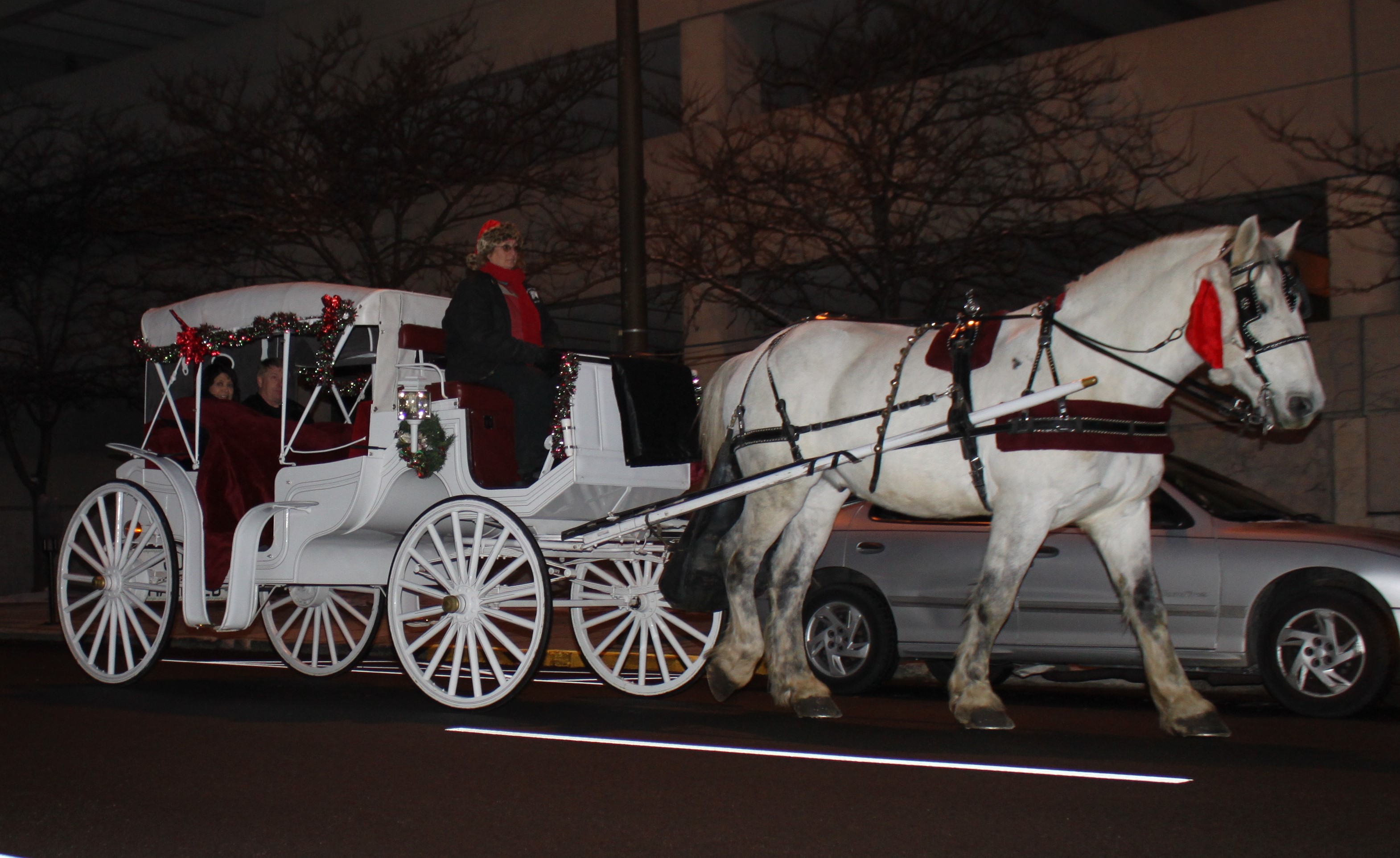 "There have been a lot of touching moments from special proposals, birthdays, proms, weddings and one unique event stands out in my mind. This involved making a young boy's dreams come true by desiring a carriage ride. He loved horses and was diagnosed with brain cancer. He went to Carroll High School and the school had a fundraising event for him and his family.
"The news stations were present and I surprised him with a carriage ride right outside the school parking lot. We took him for a little ride around, and it was a very emotional moment for many of his family members. I was honored that I could provide a service to make someone so happy. Unfortunately, he passed away just 3 days later."
Rosewood is a local carriage company in Allen County (in business since 2003) and does travel the Tri-State area for special occasions and events.
"We can travel and take up to 4 carriages to one site; we also offer nightly downtown tours in Fort Wayne. We operate every evening and year-round, weather permitting."
Gift certificates are available and Visa, MasterCard and debit cards are accepted without additional charges. So, come to the Fort and be pampered by a lovely carriage ride, any time, any day and make some lasting memories - bring the camera and kids and treat your family to a wonderful experience!
Even more special: have one picture taken in the carriage to celebrate the arrival of each new season!
If Rosewood Carriage Rides are booked there are two other carriage companies in town, check them out below.