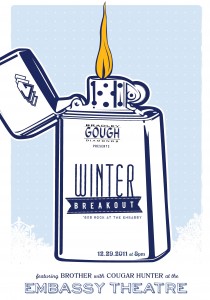 If you're a fan of great local music, or you're a fan of the annual Down the Line event, you'll want to get your tickets now for
Winter Breakout:
'
80s Rock at the Embassy
, presented by Bradley Gough Diamonds. This one-night show on Thursday, December 29 will celebrate '80s Rock 'n Roll as performed by two local bands, Cougar Hunter and Brother. Maybe you need to celebrate the end of the semester? Perhaps you're looking to start your New Year's festivities early? Or you just want a great excuse to get out (or in this case BREAKOUT) of the house! Any reason is a good one when it comes to an event at the historic
Embassy Theatre
. Having attended Down the Line every year, I think it's exciting to see the Embassy give us the opportunity to experience local music on their stage throughout the year. Both bands will perform and the concert starts at 8 p.m. It's an all ages show and all tickets are $9 in advance or $10 the week of the show. Are you a college student? Show your college ID and get your ticket for only $5! There is also a limited number of pit seats for $25. Get your tickets at the Embassy Theatre box office, all other Ticketmaster locations and Ticketmaster.com.