"We all eat and it would be a sad waste of opportunity to eat badly." - Anna Thomas
I don't know you Anna Thomas, but Copper Spoon (formerly Wine Down Tapas and Tastings) and I are with you! I went there with a group of friends on a recent Saturday evening and my first impression was of pleasant surprise that this type of restaurant concept could not only be found in Fort Wayne, but bustling and thriving. I soon found out why.
The Food 
The tapas concept is about shareable portions, so going with a large group makes it easy to sample myriad dishes. I ordered the olive tapenade with crostinis since it's a personal favorite and one I so rarely see on the menu in other local restaurants. It was well done as were the beautifully crafted crabmeat stuffed deviled eggs (when have you ever seen those on a menu?). 
The real showstopper though was the buffalo chicken skewers with blue cheese coleslaw. The buffalo sauce was perfect, but what put this offering in a category of its own was the part of the chicken used. I'm convinced it was thigh meat and not breast meat, which made all the difference. I'm also convinced I could have easily eaten the entire portion but stopped myself because I wanted my friends to like me afterwards.
The Wine Selection 
I am a wine lover, not a connoisseur mind you, and since Copper Spoon has over fifty wines to choose from, I decided to not let the opportunity to try something different from my usual Cabernet Sauvignon pass me by. I ordered a sampler. Copper Spoon will either bring you a sampling of wines or you can use their self-serve machine. Wanting the full experience, I opted for the self-serve machine, but since I missed the waiter's tutorial on its operation, I stood there for several minutes gazing at the stainless steel contraption wondering how I might procure wine from it. Luckily, my friends knew how to operate the machine and came to my rescue. I sampled four different tasty reds, but the selection of whites was extensive as well. My only request would be to have the glasses numbered so that when drinking each selection, it's easier to remember which one is which.
My favorite part of Copper Spoon is the atmosphere.  Located in the high-profile location of Harrison Square, there is a Manhattan-like feel with the dark, heavy wood, low lighting, stone fireplace, and cave-like rooms. On that evening, we sat inside a raised back room with solid hardwood shutters overlooking Parkview Field.
Copper Spoon - It's sexy and all grown up.
Check them out during Savor Fort Wayne!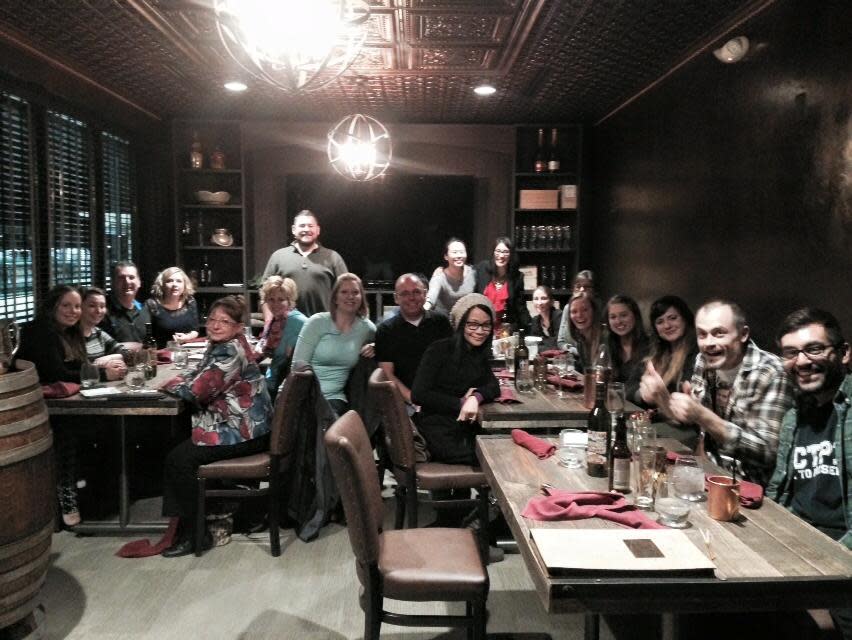 This post was originally published in January 2016 and has been updated and reformatted.