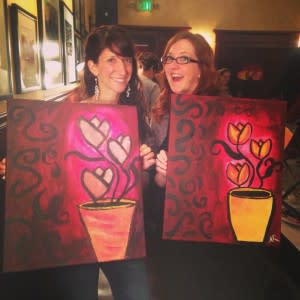 A few months ago, my friend Maureene and I attended our first Wine & Canvas event and had a great time. The one we attended was hosted at Don Hall's Factory on Coldwater Road in a large private room. I'm always nervous when I attend an event for the first time, but I was especially nervous about this one since I have never painted a picture before. As soon as I walked in, I was greeted by a Wine & Canvas staff member and he asked, "Have you been to Wine & Canvas before?" When I told him no, he walked me through what to expect and invited me to choose a seat in front of a canvas on an easel. His warm and friendly demeanor dissipated my anxiety.  He explained that each guest is equipped with a stretched canvas, appropriate paint and brushes, and an apron. So, where does the wine come in? Each guest is free to order food and beverages from The Factory's menu.
That evening, Maureene and I were two of 30 in attendance, and everyone had a blast. To our right, a daughter, mother, and grandmother enjoyed time together, and we absolutely loved hearing them joke with each other as they completed their paintings. To our left was another pair of friends out for a fun girls' night. The atmosphere is conducive to making new friends, and I really like that. Everyone paid close attention to our instructor, who stood at the front of the room with a headset microphone. As she walked us through each step, she completed the painting, as well. Even halfway through, I wasn't sure if my painting would turn out, but I followed her instructions, and in the end, produced a beautiful painting that looked like the one it was modeled after. Though hers looked different than mine, Maureene's also looked like the sample painting.
As I walked around the room at the completion of our session, I was impressed by the others attendees' paintings. Though modeled after the same painting, they took on lives of their own. That's another neat aspect about Wine & Canvas. The instructor will walk you through the steps to create the painting, but you also have the option to customize it.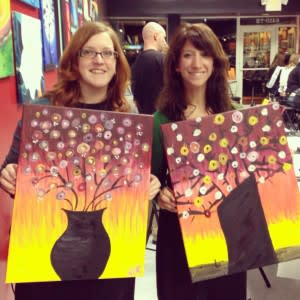 Since our first visit, Wine & Canvas has moved into its own studio, located at 6410 West Jefferson. While they still offer some traveling classes at various local restaurants, this new space allows them to offer more classes. Maureene and I visited for a session in the new studio last month and we love it. It's bright and cheerful, and the walls are lined with sample paintings from previous sessions. A beverage bar is available that serves wine, beer, soda, and water. A small selection of snacks is available, as well. There's also a private room for parties.
Our second experience was much like the first. We were both skeptical that we could complete the painting, but we did and they looked great.  What a fun night out with a friend! Wine & Canvas also offers sessions for couples and kids. If you're interested in checking out a Wine & Canvas event, or want more information, visit their website. You can even add this to your itinerary for a Girlfriend Getaway as part of a great trip to Fort Wayne!