I thought I knew what it would be like, but I really had no idea.
Almost five years ago, when a friend of mine told me he would be playing for the Washington Generals, the team that travels with and plays the Harlem Globetrotters, I was really excited for him. I knew it was a great opportunity for him to play basketball on an international stage and work for an excellent organization. When the team made its way to Indianapolis, he offered to get tickets for my family.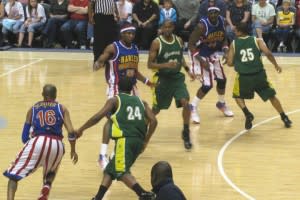 I knew the Globetrotters would have fancy passes, amazing dunks and trick plays, but I had no idea that the entire evening would entertain my socks off.
The Harlem Globetrotters are headed to Fort Wayne, and anyone looking for a night filled with pizazz would be crazy to pass up the opportunity to experience this phenomenal event. The Allen County War Memorial Coliseum will host the Globetrotters on Saturday, January 3.
Even if basketball isn't your thing, you can't miss out on this opportunity. It's about so much more than basketball when the Globetrotters come to town. I remember laughing so hard that I cried when I saw them play in 2010. It really is non-stop fun.
For those who are basketball fans, this event offers basketball like you've never seen before. And the Globetrotters roster is filled with former Division I and II NCAA players, as well as a few who spent some time in the NBA. When it comes to basketball, these guys know their stuff.
Even though the Washington Generals are almost always guaranteed a loss against the Harlem Globetrotters, they take the losses in stride. A Globetrotters event is about having good, clean, family fun, not about who wins and loses. Fort Wayne is lucky to host such a wonderful team and event.
You can learn more about the event here. Tickets can be purchased from Ticketmaster or at the Coliseum box office by calling 260-483-1111.
And, you can also register to WIN TICKETS!