Many people consider Buster Keaton one of the American theater's greatest silent film actors. Born in 1895 to a pair of medicine show performers who named their son Joseph Frank Keaton, the baby received his nickname 'Buster' from family friend and escape artist Harry Houdini. Following a tumble down a flight of stairs at approximately six months of age, Keaton was discovered virtually unharmed. Houdini is said to have cried, "What a buster your kid took!" Buster Keaton became a permanent part of his family's act. He later appeared in silent movies in the 1920s, including 'Steamboat Bill, Jr.', a film many consider a masterpiece of its era. You can watch the film at the Embassy Theatre on March 4 at 2:00 p.m., accompanied by organist Clark Wilson on the theater's Grande Page organ.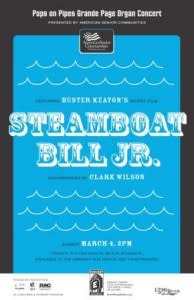 In the movie Keaton's character, Steamboat Bill Jr., is the son of a down-and-out steamboat captain who is desperately trying to compete with a new luxury riverboat owner. Unfortunately for the captain, Junior is in love with the riverboat owner's daughter. Besides the film's hilarious moments, it features a masterful physical comedy feat of Keaton's that would put today's stunt men to shame. I don't want to spoil the effect, but suffice it to say, be prepared to be astounded during the hurricane scene. Another interesting tidbit of history: Steamboat Bill, Jr. was released in 1928, the same year the Emboyd Theatre (re-named the Embassy in 1952) opened its doors. Tickets: $12 for adults, $6 for students. Tickets are available at the Embassy box office, Ticketmaster outlets and Ticketmaster.com.
And you can win tickets! Simply send your name, email address and phone number to visitorinfo@visitfortwayne.com and we will draw a winner to win two pairs of tickets! Just put "Steamboat Bill" in the subject line!