Baseball and baseball players have always had a place in the affections of moviemakers and moviegoers. One of the film world's best baseball movies is Damn Yankees made in 1958. The plot centers on a middle-aged, married, down-on-his-luck ballplayer who makes a deal with the Devil – he'll trade his soul for a chance to lead his favorite team in the pennant race against the New York Yankees. The player's dream comes true. Too late he recognizes what he lost in the trade – a good life and loving wife. Are all hopes of recovering what he values most lost for good? The Broadway version of Damn Yankees of the same plot will be performed at Embassy Theatre on Thursday, March 22 at 7:30 p.m. The Broadway musical won seven Tony Awards, while featuring hit songs like "Whatever Lola Wants" and "You Gotta Have Heart". Gwen Verdon, Tab Hunter and Ray Walston starred in the film, which received an Academy Award nomination for Best musical score.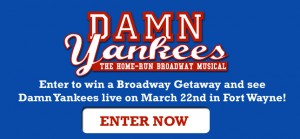 Tickets on sale now at the Embassy box office, all other Ticketmaster locations and at www.Ticketmaster.com: $52.50, $40 and $27.50. Box Office Phone: 260.424.5665 Box Office Hours: 10 a.m. - 6 p.m., Mon. – Fri. Ticketmaster: 1.800.745.3000
Embassy Theatre
125 West Jefferson Blvd Fort Wayne, IN 46802
AND - you can win a getaway weekend to Fort Wayne to enjoy Damn Yankees in person! Simply click here to register to win!