Cavo is coming to town. No; it's not a fancy new Italian restaurant. It's a rock band! This St. Louis-based band is sometimes classified as post-grunge. Formed in 2002, Cavo is Chris Hobbs (guitar), Chad LaRoy (drums), Brian Smith (bass) and Casey Walker (vocals).  The band's last album, Bright Nights Dark Days, was released on Reprise Records in 2009 and sold over 120,00 albums and over 450,000 singles.  Cavo has toured with Daughtry, Shinedown, Lifehouse, and Puddle of Mudd among others.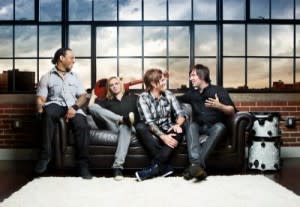 Two years after the release of its major label debut, these rockers have completed recording their upcoming album
Thick as Thieves.
The album, their first with top independent rock label Seven Eleven Music, is set for release in February. The album's lead single and title track, "Thick as Thieves," continues to gain momentum at active and mainstream rock radio, blasting into the Top 25 recently, according to a statement from the band. In addition to climbing the charts, the track has been getting strong feedback from radio around the country.  KPNT/St. Louis Program Director Tommy Mattern comments, "Cavo strikes again with 'Thick as Thieves!'  The song sounds great on The Point and is researching like a monster!"
AOL Noisecreep
says, "Cavo Return With Melodic Rock Gold on 'Thick as Thieves'."
iTunes
says of the band, "Cavo plays no-nonsense, American-heartland style rock with a clean, driving edge." Curious? The video for Thick as Thieves can be seen
. You can catch Cavo on tour Feb. 2 at Fort Wayne's own 
Piere's
. Other Midwest stops include Grand Rapids, Mich.; Flint, Mich. Traverse City, Mich.; and Dayton.
And, you can click here to register to win two tickets to see Cavo!