The Broadway at the Embassy series is just starting up its new season with a show-stopper. Fiddler on the Roof is based on the life of a farmer named Tevye from a small Russian village in the 1930s era.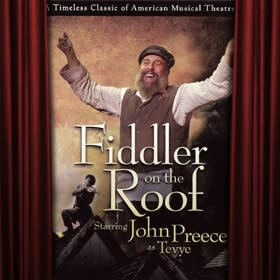 Hardly an exciting setting for a heartwarming musical. Yet from the moment we meet Tevye we are entranced. He is married and has three daughters, all of which he would like to see comfortably married. What parent would not desire this for one's children? Yet, Tevye struggles with the girls' decisions for their lifelong mates. The music for each scene ties in wonderfully with the plot, evoking powerful emotions as it draws us into the family drama. 'Tradition', one of Broadway's all-time greatest tunes, is Tevye's appeal to his family to observe the lives they have always led to hold the family together. The girls get equal time with their expressions of desire to marry for love as they sing "Matchmaker, Matchmaker." The love song between Tevye and his wife is so poignant it always makes me want to cry. 'Do you love me?" he asked. "I've given you three daughters," she replied. Not really the answer he wanted, but one that seemed appropriate to her. Not everything in the play is somber. The opening tune "If I Were A Rich Man" is joyful and sarcastic. The dream sequence of Tevye's when he imagines a ghost of a dead relative (I won't say who to keep you in suspense) giving him advice about raising his daughters is hilarious. And the wedding scene with the timeless 'Sunrise, Sunset' song is lovely. If you can get through that without tears in your eyes, it will be a wonder. Throughout the play, the Fiddler never speaks but balances precariously on the roof while strumming, reminding us how fragile life can be. It is an inspiring story with some historical significance as a prelude to events leading up to World War II. There are so many reasons to see this Tony Award® winning musical. People of all ages will find something to enjoy. Show date for Fiddler on the Roof: Tues, November 13 Curtain time is 7:30PM Embassy Theatre 125 West Jefferson Blvd Fort Wayne, IN 46802 Box Office Phone: 260.424.5665 Box Office Hours: Mon. – Friday 10 a.m. - 6 p.m. Ticketmaster: 1.800. 745.3000 Ticket prices: $53, $40.50 & $28. They can be purchased at the Embassy box office, Ticketmaster locations and Ticketmaster.com
AND, YOU CAN REGISTER TO WIN A PAIR OF TICKETS (AND A GETAWAY WEEKEND IN FORT WAYNE) ONLINE!