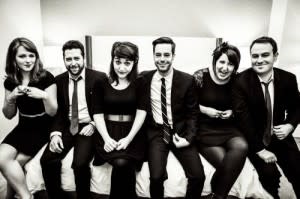 If you're a fan of
Saturday Night Live,
you'll go crazy over The Second City's 55th Anniversary Tour, Nov. 7 at the
Embassy Theatre.
Why? Many of comedy's biggest names got their start with The Second City Touring Company, including Tina Fey, Stephen Colbert, Amy Poehler, Steve Carell, Bill Murray, Jason Sudeikis, Key & Peele's Keegan ­Michael Key and Saturday Night Live's current "Weekend Update" co­-anchor, Cecily Strong.  In other words, Second City is the motherload when it comes to comedy. So what exactly is Second City, besides a group of people who will make you laugh?  According to their website, "The Second City is the leading brand in improv-based sketch comedy. With theatres in Chicago and Toronto, Training Centers in those cites as well as Hollywood, 11 full time touring ensembles, thriving corporate communications and theatricals divisions as well as television and film operations, The Second City has been called "A Comedy Empire" by the New York Times." This legendary comedy theatre troupe has resident stages in Chicago, Toronto, and Touring Ensembles entertaining over 1,000,000 guests each year! That's a lot of people! And this "empire" will have you rolling on the floor in laughter, I hear.
 The Second City format is a two-act revue – primarily scripted – followed by a third act of improvisation. The improv is when it gets the most interesting!
So come see the superstars of tomorrow entertain you in a way you never thought possible. Fair warning: You might laugh 'til your face hurts! Tickets for The Second City's 55th Anniversary Tour are between $42 and $47 and can be purchased
online. 
 I can tell you from personal experience, there really is no bad seat in the house. Plus, if you're in to nostalgia, this theatre takes the cake.
And, you can register to WIN TICKETS here!