You will be humming the blues when a certain group hits Fort Wayne – or at least, a much more exciting type of blues than you're probably thinking of. How does one categorize an entertainment act that defies description? This one has experimental music (but it's not a musical), dance (but it isn't a ballet), visual arts, percussive highlights, technology, ghostly things floating about, and much more – and the trio of blue humanoids onstage say nary a word throughout the whole performance.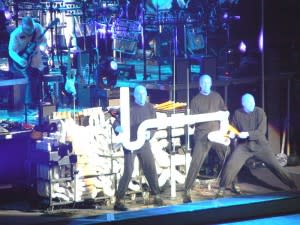 Meet the internationally-acclaimed
Blue Man Group
when they bring their passionate theatrical experience for the whole family to Fort Wayne November 13, 2014. They'll keep you engaged and laughing – with bathroom words like "butt," "tush," "shake your booty," and "buns" flashing in the background during one song.
Blue Man Group
was founded in 1987 by Chris Wink, Matt Goldman and Phil Stanton and has received kudos worldwide for its creativity, not only on stage but also with various television appearances and their children's museum exhibit. The humanoid creatures with blue makeup and bald caps keep the laughs (and gasps) going in their variety show. They have delighted audiences on
The Tonight Show with Jay Leno
, on the Norwegian Cruise Line's Norwegian Epic, and in numerous theaters worldwide. The performance artists have been on many tours, produced soundtracks and have won awards and nominations. The Baltimore Sun raves, "
Blue Man Group
packs a wallop. It's a big, loud, funny, silly, visually arresting production!" According to other reviews, "This is a show that you wonder if the creators were smoking something when they came up with the idea. . . . It really is very entertaining and mind-blowing. I've seen it 4 times now and it still hasn't let me down. It is a pretty relaxed show so you don't really need to dress like you are going to the opera. Just go, expecting to have fun. . . . It is non-stop with constant mixed audience participation. The kids loved it!" The show begins at 7:30 pm Thursday, November 13, 2014 at the Embassy Theatre is located at 125 W. Jefferson Blvd., Fort Wayne, IN 46802. Tickets ($62.50, $50, $30) can be purchased through the Embassy Theatre box office (260) 424-5665, all Ticketmaster locations,
www.ticketmaster.com
, or charge-by-phone at (800) 745-3000. Visit
www.fwembassytheatre.org
for more information. A caveat: The Embassy Theatre is a historic venue. There are no elevators to the Loge and Balcony sections. AND, YOU CAN REGISTER TO WIN TICKETS
HERE
!