The Good Person of Szechuan will be playing at IPFW's Williams Theatre April 13 – 22. The play is one of Bertolt Brecht's most popular works and tells the story of three gods coming to earth in search of a thoroughly good person.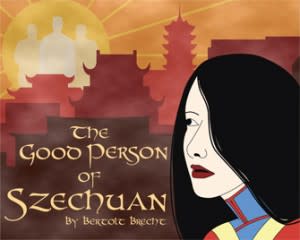 On earth, they encounter Shen Teh, a goodhearted penniless woman who was forced in to prostitution by poverty, who offers them shelter. She disproves the gods' contention that no goodness still exists on earth and is rewarded with enough money to open a small shop.
Shen Teh becomes so overwhelmed by the people demanding assistance that she invents a male alter ego, Shui Ta, to deal ruthlessly with the business of living in an evil world.
This show is suitable for kids 8 and up.
Location
Williams Theatre IPFW Campus 2101 E. Coliseum Blvd
Show Dates and Times
Friday, April 13, 2012 at 8:00 pm Saturday, April 14, 2012 at 8:00 pm Thursday, April 19, 2012 at 8:00 pm Friday, April 20, 2012 at 8:00 pm Saturday, April 21, 2012 at 8:00 pm Sunday, April 22, 2012 at 2:00 pm
Ticket Prices
Adults - $14 Seniors/Faculty/Alumni - $12 Groups of 10 or more - $10 Students 18 and under - $5 Other "college" students with ID - $10