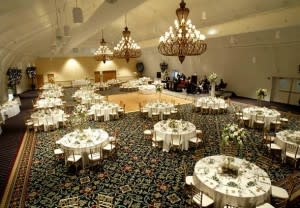 Planning a great convention or corporate event can be a company's worst nightmare. Not only do you need a great space, you also need exceptional accommodations at a variety of price points, a safe city that's easy to get to, and a city that has things to offer outside of the event itself. These are just a few of the reasons Fort Wayne is becoming a popular destination for corporate meetings and events.
Here's a breakdown of some of the city's most popular meeting facilities and their contact information: The Allen County War Memorial Coliseum ("The Coliseum") With 13,000 total capacity, The Coliseum can accommodate almost any crowd.  Located on the north side of Fort Wayne, it's close to prime shopping like Glenbrook Mall and near some of the city's best restaurants such as Cork n' Cleaver and Baker Street.  Just down the street from IPFW's campus and the host of many national concerts, The Coliseum is also located directly across the street from the Holiday Inn Fort Wayne-IPFW & Coliseum.  For more information check out their website or call their office at 260.482.9502. The Grand Wayne Center ("The Grand Wayne") Located in the heart of Downtown Fort Wayne, the Grand Wayne Center boasts more the 225,000 square feet and is the second largest Indiana convention center.  The Grand Wayne is adjacent to Hilton Fort Wayne at the Grand Wayne Convention Center and directly across the street from the Courtyard by Marriott Fort Wayne Downtown. Nearby are some of Fort Wayne's best restaurants including Club Soda, The Oyster Bar, and Don Hall's Gas House. Local nearby attractions include Parkview Field and the Botanical Conservatory.  For more information check out their website or call their Event Team at 260.426.4100.
Ramada Plaza Fort Wayne With ballrooms up to 8,050 square feet, the Ramada Plaza Fort Wayne and Conference Center can accommodate up to 1000 guests in a room. Conveniently located at I69 and Coldwater Rd on Fort Wayne's north side, hotel accommodations are available onsite or at the Hyatt Place just across the street.  Dine onsite at the Red River Steak House or nearby at Cork n' Cleaver or Koto Japanese Steakhouse.  With easy access to I-69, visitors can get to anywhere in the city quickly and easily.  For more information check out their website or call them at 260.484.0411
The Landmark Conference and Reception Centre ("The Landmark") At over 10,000 square feet and conveniently located near I69 and Jefferson Blvd in southwest Fort Wayne, The Landmark offers a state of the art yet elegant experience.  Nearby hotels include Comfort Suites, Hampton Inn Fort Wayne-Southwest, Homewood Suites by Hilton, and Hilton Garden Inn.  Just minutes away from walking trails and Jefferson Pointe Mall, visitors will have a variety of options for fun outside of the main event.  To learn more click on their website at or give them a call at 260.432.4500
The Embassy Theatre For a unique meeting experience check out the Embassy Theatre and Indiana Hotel Lobby in Downtown Fort Wayne.  With rooms that accommodate up to 275 guests and a theater that seats approximately 2500, this space will be a memorable experience for your guests.  Connected by covered walkways to both the Courtyard Downtown and the Hilton at the Grand Wayne Center, your visitors will have the best in local accommodations at their fingertips.  Enjoy the laid back atmosphere of Champions or O'Reilly's Pub just down the street or a pint and a slice from Pint and Slice.  For more information on renting the historic Embassy Theatre, check out their website or call their office at 260.424.6287. Fort Wayne is home to dozens of additional meeting facilities to help you host your event no matter the size.  
For a complete list of meeting facilities simply click the Meetings tab at Visit Fort Wayne.