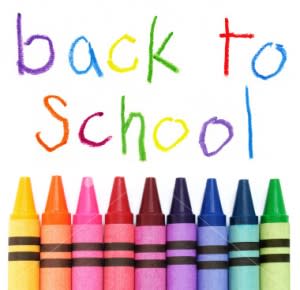 This morning I awoke to "Back to School" ads in my inbox.  It's the first sign that we're in the last half of summer. While it's only July, I'll admit we've already started shopping for the upcoming school year.   There are some great places to find back to school sales throughout Fort Wayne.  Here are a few worthy of checking out:
Old Navy, Target, JC Penney
Old Navy, JC Penney, and Target are staples for basics in our house.  Simple t-shirts, shorts, and hoodies are easy to come by, found in a variety of sizes, and are often on sale.  Check out Old Navy on Coliseum in the Northcrest Shopping Center or on the West side of Jefferson Pointe Mall.  Preview their sales on the Old Navy website.  Target has several locations throughout Fort Wayne so find the one closest to you here.  JC Penney's redesigned store is located at Glenbrook Mall on Fort Wayne's north side.  For directions and sale information check out their website. For nicer clothing that will last and carry the kids through the school year, check out Macy's in Glenbrook Mall or Von Maur at Jefferson Pointe.  Both have a great selection for all ages and are known for quality.
Glenbrook & Jefferson Pointe Malls
Fort Wayne has two great malls with a variety of stores to serve your back to school needs.  Glenbrook Mall offers a wide variety of stores that appeal to kids such as The Children's Place, H&M and Zumiez, as well as anchor stores such as Sears, Macy's, and JC Penney.  Find the complete list on their website. You'll find teen favorites from American Eagle to Vera Bradley at Jefferson Pointe along with anchor stores like Bed, Bath, and Beyond, Von Maur, and Old Navy.  Find the complete list of stores on the Jefferson Pointe Mall. No matter what you're looking for when outfitting your family for back to school, you're sure to find it in Fort Wayne. Where do you like to go for all things back-to-school?