Eating healthy while traveling can be a real challenge.  In a city known for having so many great restaurants, it can be even harder.  That's why I wanted to recommend four of my favorite restaurants - guaranteed to serve you a healthy meal that you'll want to order again.  
The Loving Café
7605 Coldwater Rd Fort Wayne, IN 46825
www.lovingcafefw.com
The Loving Café in Fort Wayne offers healthy vegan and vegetarian dishes to provide you with a yummy and healthy meal.  The menu includes a wide variety of appetizers, soups, salads, sandwiches, noodle dishes and even desserts.  If you're a fan of raw foods, including sushi, this is definitely the place for you!  While you won't find meat on the menu (hey-they're vegan what do you expect), you will find meat substitutes including vegan hotdogs, veggie burgers, and tempeh.  Since you're eating healthy, treat yourself to a piece of cheesecake or a scoop of vegan ice cream for dessert!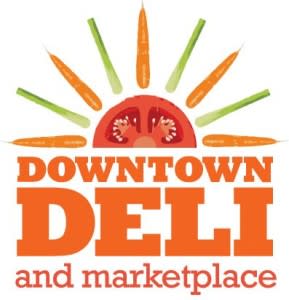 The Downtown Deli
236 East Wayne Street (inside Cottage Flowers) Fort Wayne, IN 46802 260.424.0834 Downtown insiders frequent the Downtown Deli located inside Cottage Flowers at the corner of Wayne and Barr Street.  They pride themselves on organic fruits and veggies for their soups, salads, and sandwiches.  The owners also work hard to source local foods whenever possible.  A local favorite is the chicken salad on homemade whole grain bread.  Add a side of quinoa or baked potato soup and you'll see why there's always a line at lunchtime.  While you're there, pick up a bouquet of flowers or a bag of chocolates from the candy counter for that someone special.  
Three Rivers Co-op Natural Grocery & Deli
1612 Sherman St Fort Wayne, IN 46808
www.3riversfood.coop
Not only is Three Rivers Co-op a grocery with many of the great organic foods you can't find anywhere else, it's an eat-in deli complete with some great healthy options.   Check out their soups such as the Spicy Chard or Chicken Asparagus. Looking for something more substantial?  Try the Chicken and Biscuits, Chicken Diane, or the Teriyaki Stir Fry and Steamed Organic Carrots and Kale.  
Honey on the Table
2461 Hobson Rd Fort Wayne, IN 46805
www.honeyonthetable.com
Honey on the Table is known for the baked goodness as much as they're know for their sandwiches and salads.  The Great Granny Smith BLT sandwich served with Granny Smith apples and Cheddar on house-made raisin bread is a must!  Looking for vegetarian?  Check out their Rustic Grilled Cheese or the HOTT Caesar Salad.  Do yourself a favor and have just one cookie.  You've earned it for eating healthy!  While you're there, pick up a beautiful gift basket full of artisan goodies for someone you need to impress.