Although it may be hard to believe, given this year's extended winter weather, the renowned Fort Wayne Children's Zoo opens on Saturday, April 21. This is one of the most-anticipated spring events in the Fort, so let's take a look at what's new at the zoo for 2018.
New at the Fort Wayne Children's Zoo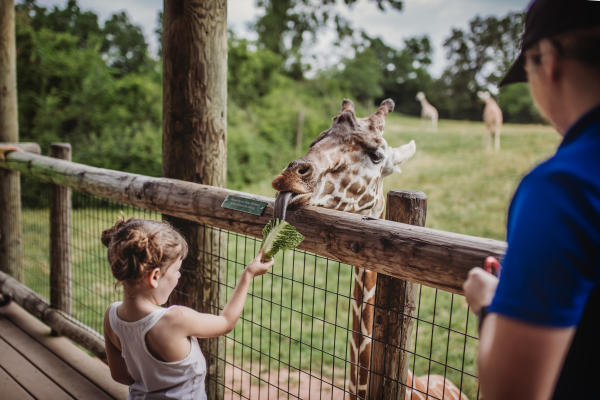 All About the Babies
You'll see so many new babies at the zoo this year. Here's a sampling of the little critters you can take a peek at:
In the African Journey, be on the lookout for two new giraffe calves. This is the first time in 20 years that there have been two young giraffes, so you'll have lots of opportunities to enjoy their antics.
Africa is also the place to see a one-month-old sitatunga calf, Sahar. In case you've forgotten, a sitatunga is a type of antelope.
Head to the Indonesian Rain Forest area to spy a new wrinkled hornbill chick which hatched last winter.
Indonesia is also home to two new active baby Prevost's squirrels.
In the central zoo area, look for a new 1-year-old Canada lynx named Frisko.
New Animals
How about other new animals, of the more mature variety? The Fort Wayne Children's Zoo has them for you!
A new species for the zoo this year is the African grey parrot, in (as expected) the African Journey. You can expect to see these fascinating birds in their enclosure once the temperatures warm up a bit.
The Indiana Family Farm is home to some Chicago garter snakes, new this year. If you're afraid of snakes, no fears: the snakes will be safely housed in a closed case inside the barn for your viewing.
Do you love lynxes? There's a new one at the zoo this year. He's a year old male named Frisko.
Perhaps the most heralded new animal this year is Justin, a male red panda who came to Fort Wayne from the Memphis Zoo. Justin will turn six on July 1, and he joins female red panda Xiao. Why are all the animals moving from zoo to zoo? It's to keep the genetic mix of species diverse in order to ensure healthy animals, and hopefully, more babies for us all to enjoy.
Red Pandas are actually related more closely to weasels and skunks than to pandas. But there's no denying that they are cute!
American Alligator Exhibit
Look for enhancements to the American Alligator Exhibit. There are more trees in the exhibit now, and more land area for the alligators to sun themselves. Plus, you'll enjoy an easier time spotting these animals.
More Interpreters
How many times have you visited the zoo, stared at an animal in wonder, and then had a question? That happens to all of us. Anticipating this, the Fort Wayne Children's will have an increased number of zookeepers available throughout the zoo this season. You'll find them at seven different animal areas (you can pick up a schedule when you arrive). Have a question? Ask away!
Plus, live zoo chats are scheduled throughout the week for you to enjoy at various spots around the zoo. In the Australian Adventure, you won't want to miss chat sessions with a dive team members, who will answer your questions while he or she is in the reef's shark tank. Don't worry; these sharks don't bite.
More Excitement to Come
You will notice lots of construction going on this year at the zoo, although it's tastefully covered with fencing that blends in with the other exhibits. What's underway? A new monkey island, and a new North American river otter exhibit. Look for these major new exhibits next year, in 2019.
That's a wrap on the new things you can expect to see at the zoo this year. What are you most excited about?
3411 Sherman Blvd.
Open 9 a.m. - 6 p.m. daily, last admission at 5 p.m.
From Memorial Day through Labor Day, hours are daily 9 a.m. - 7 p.m.
Admission $14 for adults, $12 for those 62 and up, $10 for children 2-18, Free for children under 2