Middle Waves Music Festival is a two-day event that celebrates music, dance, culture, food, art, and all things creative. This Fort Wayne, Indiana festival is built around a combination of free and ticketed concerts on three stages in downtown Headwaters Park. The fun happens during the weekend of September 15 & 16 and there's something for everyone.
Fort Wayne business owner and musician Matt Kelley leads the Middle Waves steering committee. Kelley is excited about the enhanced offerings at this year's festival. "Middle Waves 2017 will offer patrons more of everything they loved about last year's inaugural festival—more music, more food and refreshments, more vendors, more art, more experiences. We took our post-event surveys to heart, grew our team, and are so proud and excited to showcase everything we've been up to for the last 11 months!" said Kelley.
What To Expect at Middle Waves Music Festival
Free Things to Do
How can you enjoy Middle Waves for free? Let me count the ways…
Two of the free music stages are completely gratis. As a local musician, I'm both overjoyed and baffled at how the Middle Waves crew can pull this off. A tremendous amount of talent is packed into those two stages for two whole days. Some of the bands on the free stages are local, some regional, and some are even national acts.
 
The Middle Waves "Good Vibe Tribe" will be here, there, and everywhere throughout the festival. Watch for fun, free activities popping-up. Highlights include balloon art, play spaces for kids, arts and crafts, Yoga, a hammock hangout and much more!
 
Rumor has it there will be a unicorn at the festival.
 
Middle Waves is located within beautiful Headwaters Park in downtown Fort Wayne. Make sure to stroll around and enjoy the park on this late summer weekend.
Kelly is pleased to offer these and other free amenities to festival guests, "It's important to remember, of course, that two of our three stages are free and open to the public, as is our Village, with food trucks, vendors, bars and more. We encourage EVERYONE in Northeast Indiana to come down and check out the festival—your curiosity will be rewarded, over and over again!" said Kelley.
Tickets Required - It's Worth It!
With all the freeness floating around, why buy a ticket? The St. Mary's stage (the big one) does require an admission fee, but it's totally worth it. Last year I enjoyed the Friday afternoon and evening shows at the St. Mary's stage and I was blown away. I fell in love with hip-hop act Sidewalk Chalk and I might have never known to give them a listen were it not for the eclectic lineup that Middle Waves offers. And speaking of vibes, the St. Mary's area featured fun displays and photo op's, short drink lines, no lines for the restroom and a VIP area for an extra fee.
Bands set to grace the St. Mary's stage this year are some impressive national acts, including festival headliner MGMT!
Also, the ticketed area features luxury-style extras, like free hair braiding, a glitter bar, and Thai massage at designated times, just to name a few.
Tickets (both general admission and VIP) are available at http://middlewaves.com/tickets/. The VIP tix sold out last year, and I believe the GA tix are sold at a discounted rate if you purchase at least a week before the show, so now is the time to secure yours.
Local Tip: Kids under 12 can enter the St. Mary's stage area for free.
Headliner Highlight
MGMT will make their Fort Wayne debut at Middle Waves Music Festival 2017. If you've never heard of MGMT, then this festival IS for you! The beauty of Middle Waves is its diverse mix of culture. Last year I went mostly to see the local acts and found myself awestruck by a hip-hop band from Chicago.
MGMT is a psychedelic rock band, and they're currently touring the American festival circuit. You can familiarize yourself with their unique style via the band's webpage, or just come with your ears open and experience MGMT for the first time on September 15!
More Acts - They're Pretty Amazing, Too
Middle Waves has a musical palette so rich and diverse there's bound to be something for everyone. For a complete list of performers, visit http://middlewaves.com/lineup/.
One act that stands out to Kelly is the band Radio Jarocho & Zenen Zeferino. Kelly had this to say about their unique approach to live performance, "They perform updated, original versions of traditional son jarocho and flamenco jams, and I just think it's going to be absolutely exceptional. Percussion is provided by Julia del Palacio's dancing feet, on a wooden box!"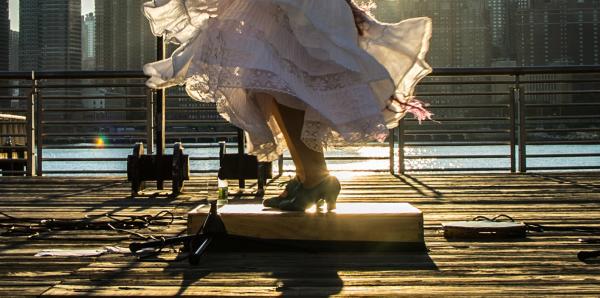 The Food
The festival offers ample opportunities to fill your belly. Expect food trucks and concessions operated by a variety of local vendors. Alcohol is also available for purchase at the event. VIP passholders have access to additional food options and an exclusive bar (outdoors).
Most food options will be located in The Village on the south side of the park, near the main entrance. The Village will also be the home base for local artisans who've been invited to take part in the festival.
Where to Stay
Fort Wayne has many lodging options from national hotel chains to family-owned bed & breakfast houses. Check out the Hotels page on Visit Fort Wayne's website for a list of hotels and locations.
What to Bring to the Festival
This is Indiana, so layer up on clothing. The weather can change in an instant. You'll be outdoors and may or may not have access to shade so sunscreen is important. Insect repellant is also a good idea during the evening hours. Mid-September can feel like fall but it's still mosquito season. Bring cash or plastic for food. There will be an ATM on site, but probably just one near the main entrance to Headwaters Park.
Most importantly, bring an open mind and your dancing shoes. You WILL have fun at this festival, and you'll hear music you didn't know existed. I think that's a very good thing!