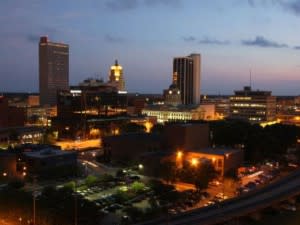 As someone who lives and works in Downtown Fort Wayne, I'm in love with the city!  When I moved here from the Chicago area, I purposely chose the downtown area because of all of the great things to do here.  Here are a few of our favorite things to do in Downtown Fort Wayne.
Cinema Center
, located at Berry and Clay, is the perfect place to watch classic and independent movies.  At just $8 for adults ($6 for matinees) this is one of the best bargains in Fort Wayne.  Currently showing are flicks like "France Ha",and "At Any Price".  You'll also want to check out the Three Rivers Film Festival on Wednesday July 17.  Find their complete list of movies at their
website
.
The History Center
located at Wayne and Barr St, is one of our favorite places to take guests new to Fort Wayne.  Located in the original Fort Wayne City Hall Building, the museum offers a variety of collections showcasing the amazing and interesting story of Fort Wayne.  Check it out. You're sure to learn something.  You xan find out more by checking out the History Center
online
.
Fort Wayne Museum of Art
is second to none with national exhibits you would expect to see in larger cities.  Current exhibits include The Summer of Glass featuring the work of Dale Chihuly and International Studio Glass from HABATAT GALLERIES. Additional exhibits include Remains: Recent work by Austin Cartwrite and AFROS: A Celebration of natural Hair by Michael July.  Learn more at the FWMoA
website
.
The Embassy Theatre
is the perfect venue to see touring Broadway productions, concerts, and more.  This historic theatre doesn't have a bad seat in the house! With a variety of shows and concerts such as Steely Dan, Eddie Griffin and Friends, and STOMP there's sure to be something for everyone.  The Embassy also offers educational and volunteer opportunities for those interested in being a part of the theatre.  Check out their
website
. Take in a ballgame at
Parkview Field
.  Cheer on the
Fort Wayne Tincaps
at one of the best ballparks in the nation.  Attend a Thursday night game for Thirsty Thursday dollar beer night or a fireworks night with the family.  Be sure to get your picture taken with Johnny, the Tincaps mascot, and enjoy the apple dumplings.  They're awesome!  You can order your tickets
here
. A night on the town.  You'll often find us enjoying jazz and martinis at
Club Soda
on Superior Street in Downtown Fort Wayne.  Serving one of the best martinis in Fort Wayne and offering a great dinner menu, Club Soda is a favorite with locals.  Come for drinks, stay for dinner and entertainment.  You'll find their menu and event schedule on their
website
. These are just a few of the highlights in Downtown Fort Wayne.  Come down and check it out for yourself. There's tons to see and do!