With the rising gas prices, we all want to stay closer to home this summer. Fort Wayne, Indiana offers a fun-filled vacation without breaking the bank!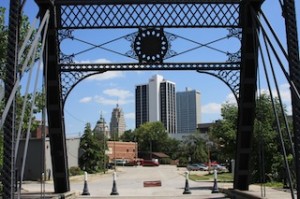 I work part-time at Visit Fort Wayne, so I can give you ideas of what to do to in Fort Wayne to make your vacation as full or relaxed as you would like.  From family fun to date night for mom and dad, we offer it all.  And, the best is, we offer it with our great Hoosier Hospitality, and at prices that are less than you expect. For those of you that enjoy being indoors, we have many museums and attractions. The Foellinger-Freimann Botanical Conservatory is known for being an "oasis in the heart of downtown Fort Wayne." Science Central has 130 exhibits that offer a hands-on learning experience. The History Center is home to over 23,000 artifacts, photographs and documents representing the history of Fort Wayne and Allen County.  And let's not forget about the African-American Historical Museum, Cathedral Museum, Firefighters' Museum, Fort Wayne Aviation Museum, Karpeles Manuscript Library and The Fort Wayne Museum of Art. For the outdoor enthusiast, The Fort Wayne Children's Zoo is voted one of the "Top Ten Zoos in the nation," and should definitely be placed on your list of things to do. And don't forget to stop by a TinCaps baseball game or head over to the Rivergreenway for a walk or bike outing. Is shopping more your thing?  Jefferson Pointe offers a delightful outdoor shopping experience, and for those of you who want to stay inside or need a rainy day activity, check out Glenbrook Mall on the north side of town instead. Fort Wayne is also home to many family-friendly festivals, such as: GermanFest, RiverFest, BBQ RibFest, GreekFest, Three Rivers Festival, Allen County Fair, CountryFest, Johnny Appleseed Festival, and Chili Fest.  The list continues, but as you can see, we really offer something for everyone. Looking for additional suggestions? Give us a call at (800)767-7752 or visit us
online
to plan your perfect vacation. We hope to see you soon!