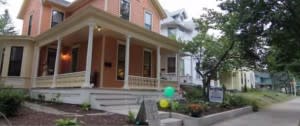 Fort Wayne is home to many historically rich neighborhoods. Among them,
West Central
is worth a second look. The good news for you is that annual Home & Garden Tour is right around the corner. Here's what you can expect from this weekend that celebrates history, arts and horticulture in one of Fort Wayne's most eclectic neighborhoods. On Sept. 6 and 7, proud residents in the neighborhood open their doors for a few hours to the public for this annual event. Think tours of gardens, historic homes and other buildings from the 19th and 20th centuries, an arts fest, food, and live music. Several stops are on the itinerary this year, including beautiful homes and gardens. Browse the booths of  local artists at the ArtsFest and select a one-of-a-kind treasure for your home or as a unique gift. You'll surely be impressed by the amount of local talent. If you're hungry there will be a variety of local food trucks and other vendors on hand. There will also be live entertainment during the event. The block party lasts all weekend! I have gone every year for the past three or four, and I can tell you it's one of the highlights of the fall. It inspires me to see how old homes have been restored with sometimes new and modern twists. Occasionally you can talk to the residents and learn about their renovation adventures. I also enjoy hearing some of the history behind the residences.  At one time West Central was where Fort Wayne's wealthy lived, so there is a backstory or two waiting to be rediscovered. History buffs: rejoice! Tickets are $15 the day of the tour.  You can buy discounted tickets are local shops in the area. The tour runs from 11 am to 5 pm Saturday and Sunday, Sept. 6 and 7.  For further information, visit the West Central Neighborhood 
website
, or call (260) 385-WEST.