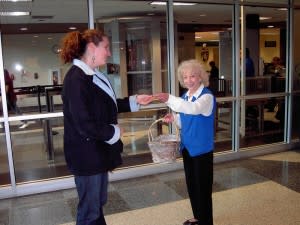 Those who have not been to Fort Wayne International Airport in recent years need to stop in to see the beautiful Welcome Center. It is located in the central part of the terminal across from Security Checkpoint. According to Volunteer Coordinator Judy Lake, the Welcome Center has one goal. "Our volunteers try to provide outstanding information and assistance to the thousands of passengers who pass through the airport each year.
Questions the volunteers frequently respond to include:
Arrival and departure flight schedules
Procedures for going through Security Checkpoint
What to do about lost luggage
Providing driving directions and information on local attractions, hotels, restaurants
Answering visitors' questions about amenities
Location of the ticket counter and its available hours
In addition, the volunteers are well-loved and appreciated for the fresh cookie and welcoming smile that they provide to every incoming passenger. Talk about Hoosier Hospitality! At the Information Desk located within the Welcome Center passengers can find comfortable seating, maps of Fort Wayne, brochures about local attractions and special events, travel guides, luggage tags and pens and helium balloons for kids. There is also a kiosk, compliments of Visit Fort Wayne, that offers comprehensive information about the city of Fort Wayne.
My husband and I appreciate the fact that our far-flung kids (2 in Asia; 1 in Washington DC) choose to fly home through Fort Wayne International Airport. It is a convenient commute for us and a friendly area in which to sometimes have to wait during late hours.