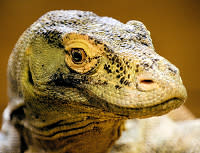 Weighing a Komodo Dragon is a tricky process, especially when that Komodo Dragon is 18 years old and weighs hundreds of pounds. To maintain excellent health as she ages, Gorgon, the 18-year-old Komodo dragon at the Fort Wayne Children's Zoo, gets regular monthly weigh-ins.  Picking up and carrying the five-foot-long, 62-pound lizard to a scale is not an option - that could be stressful for Gorgon and dangerous for the zoo keepers. Zoo keeper Dave Messmann, who has cared for Gorgon since she arrived at the zoo as a hatchling in 1995, created a six-foot-long box for transporting Gorgon to and from the scale.  The box features a clear Lexan lid and multiple hatch doors for inspecting various parts of the lizard's body. Messmann simply parks the transport box next to a small door in Gorgon's enclosure.  "We bait the box with food - in this case we're using mice - and Gorgon walks right in," he explains.  Once Gorgon is inside the box, the back hatch is closed and the entire box is carried to a set of load bars and weighed.  Keepers have already weighed the empty box, so they'll subtract the box's weight from the total to get a weight on Gorgon.  "Her weight has been pretty stable for the last several months," says Messmann.  "That's a good sign."
See more photos of Gorgon's weigh-in on our
Zoo Blog
. As an aging Komodo dragon, Gorgon is being treated for arthritis and other age-related ailments.  Her transport box is made of plastic, so the veterinarian can obtain x-rays without removing Gorgon from the box.  When it's time to move Gorgon outside to her summer home, she comes and goes in this custom-made transport box. Obtaining weights is a basic tool for monitoring animal health, especially with reptiles, who typically mask any symptoms of illness until it's often too late for treatment.   "We want to do everything we can to keep her healthy," Messmann says. Read more about Komodo dragons
here
, and download a high-quality image of Gorgon in our
Photo Gallery
.