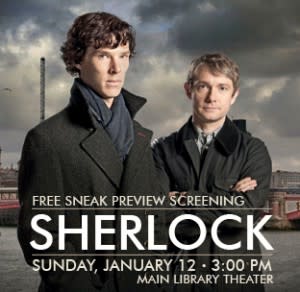 I admit, I'm a purist when it comes to TV adaptations of famous stories I love. This is especially true for my favorite British author, Sir Arthur Conan Doyle, and his enviable creation of the world's most famous detective, the character of Sherlock Holmes. I've read all of Doyle's Holmes' stories many times and  have viewed the deceased actor Jeremy Brett's characterization of Holmes with admiration.
I love the suspenseful plots, mysterious atmosphere with London's fog and dark alleys and Holmes' quirks as described by Doyle and interpreted by Brett. As an author, I respect the creativity other authors put into developing characters and plots and think they should be honored in adaptations. All too often, this is not the case, especially when the adaptation is updated to contemporary status. Movie directors take short cuts and add twists that distort in my opinion the author's true flavor in story-telling.
So when Masterpiece on PBS issued a modern adaptation of Conan Doyle's first Holmes' story 'A Study in Scarlet', renaming it 'A Study in Pink' to a new series simply called Sherlock a few years ago, I was skeptical. It stars Benedict Cumberbatch as a 30-ish, hip Sherlock who knows how to disrupt a police meeting with the press by texting. Texting! It didn't seem appropriate to put texting in a Holmes story. But as I continued to watch, I grew to love the show. In fact, I've watched each episode several times. It is fast, funny (not stupid) and innovative.
This purist has been won over. While the adaptation for Pink was not one of Doyle's creations, it will do for this Sherlock fan. So you can imagine how exciting it is for me to know that the Allen County Public Library's Main Branch downtown is offering a free viewing of the first episode in Season 3 of 'Sherlock' on January 12 (this Sunday) in its theater on the big screen. The 90-min show starts at 3:00 PM. What's even greater is that this viewing is one week earlier than its US premiere. So I won't have to wait so long to see what troubles Holmes and his equally interesting helper, Dr Watson, uncover! Arrive at the library early enough to check out its 1,200+ materials on the famed detective.
The library also has Season 1 & 2 of Sherlock on DVD, as well as dozens of sound recordings of his adventures. No registration is necessary for the viewing of Sherlock. Call the library at 260-421-1210 for more information.