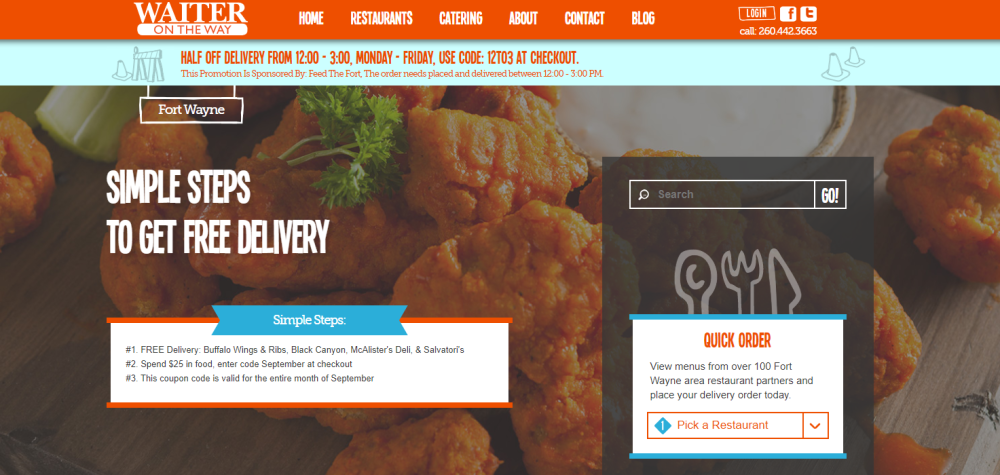 Want to indulge in Casa's famous salad or a Coney dog from Coney Island from the comfort of your hotel, home, or office?
Call Waiter on the Way! Waiter on the Way is a fast and friendly food delivery service that brings food from some of Fort Wayne's most prominent restaurants to your home or office. Some of the restaurants from which diners can order from the menu include Don Hall's restaurants, Spyro's Pancake House, Zianos Italian Eatery, Coney Island, Texas Roadhouse, TGI Fridays, Oleys Pizza Shoppe and Ceruti's Catering.
After choosing your meal from a maximum of two restaurants, call Waiter on the Way to place the order. They will call the restaurant(s) to place the order and then relay to you the total cost of your order. Within minutes a driver will deliver a hot, fresh meal to your home or office. No more running across town to get your favorite steak or seafood or salad! Waiter on the Way is open every day of the week for most mealtimes. Deliveries outside business hours can be arranged with one day advance notice. There is a delivery charge, regardless of number of meals ordered. Long distances may require additional charges. Methods of payment include most credit cards, debit cards and cash. Note: Menu prices do not include sales tax. Delivery fee does not include gratuity.
260.442.FOOD (260.442.3663) Website Mon-Fri 8am-10pm Sat 11am-10pm Sun 12noon-9pm
*This post was originally published June 2012 and has been updated and reformatted.