Stepping up to the smoothly sliding doors of Von Maur at Jefferson Pointe, I didn't quite know what to expect. I hadn't been in this store for years. But the minute the airlock doors whooshed open, a beautiful warmth took over. It was as though I was in a new world of red and gold Christmas charm.

Glossy floors reflected the multitude of Christmas trees set up everywhere. White trees with red ornaments, green trees with a mix of colors, perfectly spaced garlands around the center atrium – and a piano with a real pianist, adding the last and perfect touch.

Soft notes from the piano wafted throughout the store. The man controlling the keys modulated from one holiday favorite to the next, "Joy to the World," the "Chipmunks Christmas Song," "White Christmas," and many more. It was just a pleasure to stop in the center of the store, beside the escalators, listening to the expert on the keys and taking in all the sights of a well-run, finely decorated retailer.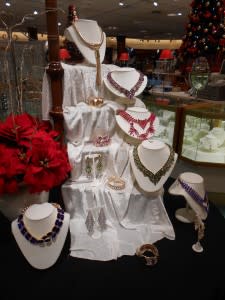 Merchandise was set up in attractive displays. Vera Bradley and Coach bags, jewelry, shoes (with a charming variety of boots in front) and tasteful menswear was easy to find. Up on the second floor, children's and women's merchandise was arranged in separate areas. There were t-shirts and cute pajamas readily visible in the children's department (and oh, were some of the little dresses cute!), and the women's department was wonderful. Lovely dresses, soft bathrobes, and tailored winter coats were everywhere. Different styles of clothing were set on widely-spaced racks, so there was no trouble with negotiating between the little black dresses and the more matronly, ankle-length gowns. In browsing through the clothing, the details were the selling point – lapels on a snappy royal blue top, an extra few buttons on a shirred-sleeve sweater, a little sparkle on a warm scarf. Even in the children's department, the displays were unique. For example, in the boys' section, one display had fleece jackets, Monopoly and Yahtzee boxed games, a Cars suitcase, and a glistening white top hat, complete with just a touch of snow.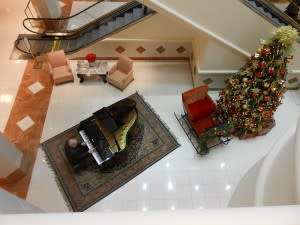 Glancing down from the second floor, I had a perfect view of the Christmas tree, the glossy grand piano, and the suave musician, modulating through a rippling set of arpeggios as he began yet another holiday song. This visit to Von Maur was one that I wouldn't soon forget. It was like experiencing a dream of perfect elegance, set in Christmas tones.