The gold and red decorations create such a warm atmosphere, it's fun to just stand and soak in the atmosphere at Von Maur at Christmas time. The live pianist playing Chopin and other classical works doesn't hurt, either! Von Maur presents a classy shopping experience to visitors who are looking for quality apparel, makeup and jewelry. Plaid-wrapped gifts were mounted on countertops, spaced between holiday trees with shimmering red and golden balls decking each branch. On the first floor, attractive displays of jewelry lined the aisles, jewel-toned stones catching the light. A clerk behind one of the jewelry counters assisted a customer, pulling out a catalog and hunting for just the right accessory to order.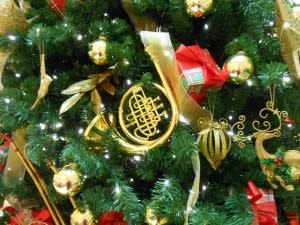 In the center of the store, where the escalators are, a tall Christmas tree was decked with golden instruments – violins, trumpets, French horns, and bells. Near the tree was a handsome sled, upholstered in rust-swirled velvet. And next to the 'up' escalator was the grand piano, played by an expert. Each selection he played began with a lovely introduction and melted into a familiar tune, lie "Silent Night" or "I'm Dreaming of a White Christmas." Later on in the morning, a group of string players from a local education center performed classical and holiday pieces. Shoppers, bags and purses in tow, paused to watch and listen as the children played Dvorak and Jolly Old St. Nicholas. Upstairs, a forest of frocks for little girls waited for just the right customer. Pleats, ruffles, velvet and plaid were in adorable abundance. Couldn't you just see a small girl looking through the dresses, to find just the right one?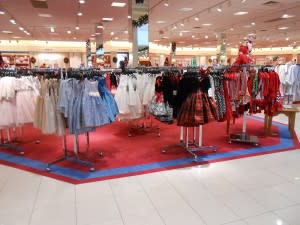 Not too far away were the boys' things – John Deere t-shirts, petite polos in pristine white, and plaid tops. And further over was the womens' section with jackets, nice dresses, and comfy housecoats. Back downstairs, leather pocketbooks, glittering wallets and a variety of substantial purses were arranged on counters and racks. Tall-topped boots stood high in the shoe department, and sequined tops glittered in the juniors section. Shoppers were busy, hiking off the escalators and exploring the goods. Von Maur always presents a nice celebration of festive accents fit for any holiday need. Advertising banners are few in number, and the clerks are discreetly ready to assist at any time.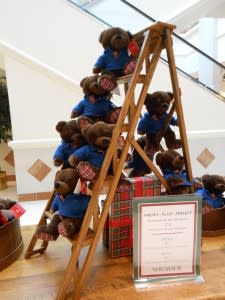 Take note – it is better to shop before 11:30 on Saturday mornings, since the store is quieter at that time. Towards noon, the shop's customer traffic – and the traffic outside, ranging for available parking spaces – becomes a bit more fast-paced. So why not stop by and sample the elegant side of Christmas shopping? Von Maur Jefferson Pointe Shopping Center 4202 West Jefferson Boulevard, Fort Wayne, IN 46804 260-432-3244