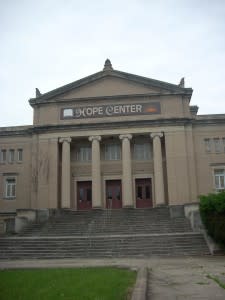 I love the current exhibit at the Karpeles Museum in Fort Wayne. You've not heard of the Karpeles Museum? You didn't know that Fort Wayne is one of the few cities in the US that houses traveling themed exhibits of unique historic documents that can be easily viewed by the public for FREE?
Let me fill you in. The Karpeles Library is the world's largest private holding of important original manuscripts and documents. Letters, contracts, notes, novels, drawings, directions—every sort of handwritten correspondence is part of the collection written by well-known people like US presidents, world leaders, entertainers, inventors, authors. There are only a dozen Karpeles Museums in the US so Fort Wayne is blessed to have such a location!
The documents have been collected since the 1970s and are lent to the public on temporary basis for their education. Exhibits of 26 cases are changed at each Karpeles Museum four times each year. The current exhibit features the combined papers of Sir Arthur Conan Doyle, author of the famed British detective Sherlock Holmes, and tricky escape artist Harry Houdini. I never knew these two men knew each other or that they had a common interest -- Spiritualism. This display mentions their friendship and the obsession each had for contacting the dead. As an avid Sherlock Holmes fan, this exhibit was interesting to me. I knew from studying Doyle's biography that he had been interested in the occult, even though this type of thinking is contrary to the deductive qualities of his famous character, Sherlock Holmes. Doyle's wife was a proclaimed medium and Doyle participated in many seances. Even though I don't believe in spiritualism, I enjoyed seeing the documents written by Doyle on this subject.
Houdini's correspondence was no less intriguing. In one letter, probably near the beginning of his career, he pleads for someone to give him a chance to perform his act. It seems hard to believe such an infamous performer would have had to seek work! In May the Karpeles library was moved from its former location on Piqua Ave. to a majestic-looking building at 2410 Fairfield Ave with Hope Center engraved across its front. There is parking behind the building and on Pierce Street. Fairfield does not have on-street parking. The current exhibit runs through August 28, 2013.
The next exhibit will feature documents from early America. Hours for the museum are 10:00 a.m.—4:00 p.m., Tuesday through Saturday. Closed on holidays. One good thing that has not changed is there is no cost to enter this or any Karpeles museum throughout the nation. Cool! If you want more information about the Karpeles Manuscript Library, you can call them at 260.456.6929. Or, visit their website!