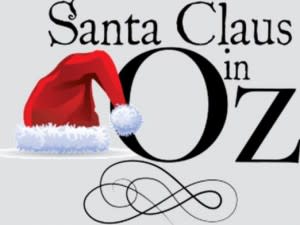 There's a little bit of red and white on the yellow brick road to Emerald City this Christmas!

Fort Wayne Youtheatre is preparing for Santa Claus in Oz, written and directed by Harvey Cocks.  Consisting of the original cast of characters from The Wizard of Oz, this play features Santa Claus as a regular visitor to the land of Oz, where he has always been warmly welcomed each Christmas.

However, there is one tribe of characters who now object to Santa's arrival!  Conflict ensues as Santa is put on trial.  How will the children of Oz receive their toys without Santa Claus?

Come find out this Christmas season!  Kids and adults alike will appreciate the blend of two popular children's fantasies.

The fun begins on opening night, December 20th.  From 6:00-7:00, there is a pre show Holiday Fest in which kids can visit Santa Claus before he goes on trial in Oz.  There will also be Christmas carolers and a light supper available.  Tickets for this event are $10 adults (includes wine and beer) and $5 child/student (18 years & younger).

Performance dates: Friday, December 20:  7:00 p.m. Saturday, December 21:  11:00 a.m. Sunday, December 22:  2:00 p.m. For more information or to purchase tickets, visit the Youtheatre website, go to Visit Fort Wayne, or call 260-422-4226. Santa Claus in Oz will be performed at the Arts United Center located at 303 E. Main Steet.