As Indiana's second largest city, Fort Wayne is the perfect urban destination for families.
Discover downtown attractions including Science Central, the Fort Wayne Museum of Art, the Botanical Conservatory, and Parkview Field, the #1 fan experience in minor league sports; and enjoy one of the best zoos in the nation, the Fort Wayne Children's Zoo.
Celebrate at many of Fort Wayne's summer festivals in Headwaters Park happening almost every weekend.
And, in 2019, there will new opportunities for visitors to enjoy and discover Fort Wayne in new ways!
What to Expect in Fort Wayne, Indiana Summer 2019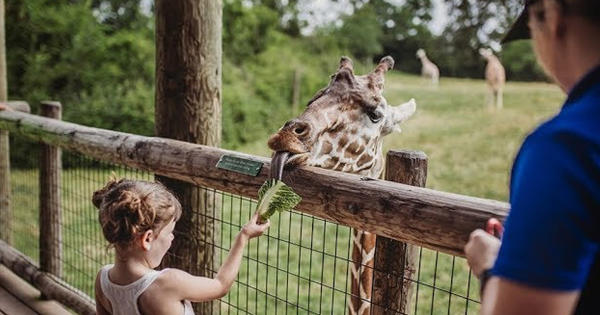 The Fort Wayne Children's Zoo is a crowd favorite, from rides and interactive activities in every part of the zoo to some amazing animals including Tasmanian Devils, Stingrays, Lions, Orangutans, and more, there is something for everyone to enjoy.
The zoo is built for children, no need to pick up your child to see over walls! Plus, the interactive activities will keep everyone busy for a full day or an afternoon.
Speaking of building, the Fort Wayne Children's Zoo will have two new exhibits to explore.
Opening in April 2019, you will be able to explore the new Monkey Island – the new home for the capuchin monkeys in Central Zoo.
And, everyone's favorite River Otters will have a new home as well! Located in Central Zoo as well, the river otter's home will feature land and water areas where guests can have an underwater viewing shelter and a viewing cave at the front of the exhibit.
Fort Wayne, Indiana used to be a canal town. Nicknamed the "Summit City" from the days of the Wabash and Erie Canal, when Fort Wayne was the highest point on the run of the canal. All canals landed along Canal Street, near the current Columbia Street.
The Landing as it was called, was a key stop along the canal route. Today, The Landing will be a new destination for visitors to enjoy everything! Visitors will be able to enjoy a Brewery/BBQ restaurant concept, a Utopian coffee shop, and other retail and dining areas like Nawa, which is already offering some great Asian fusion foods in a spectacular setting.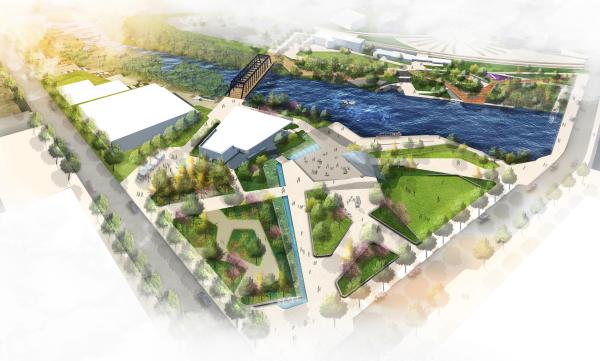 Fort Wayne's rivers are an essential part of recreation and are coming back to the forefront of the community with development projects planned to provide new access points to recreation on our rivers. River aficionados currently adventure along our 8-miles of rivers by kayak, canoe, stand-up paddleboards, and riverboat cruises including the new 19th-century replica canal boat, Sweet Breeze.
The cornerstone attraction of the new Riverfront Fort Wayne will be Promenade Park, which is set to open in June 2019. Promenade Park will feature amenities like a new restaurant in the Park Foundation Pavilion and the highlight of the park, the Parkview Tree Canopy Trail.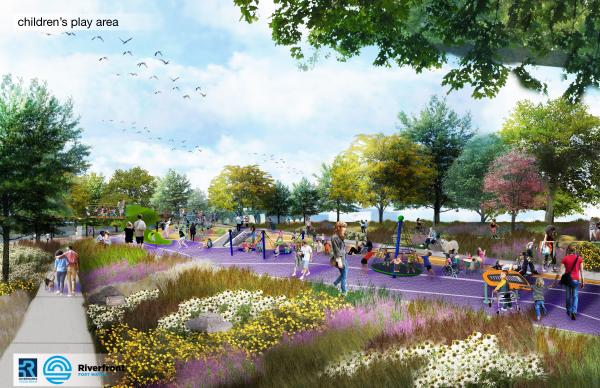 The Tree Canopy Trail will be a unique experience for all ages and abilities, featuring a slide into the PNC Playground, and one of the best views of downtown Fort Wayne – a true bird's eye view of the city.
Promenade Park will also feature activities for any day and any season – think bonfire pits, hammocks, yard games, adult swings, events, docking systems, and the Ambassador Enterprises Amphitheatre – the perfect spot to relax and enjoy the sights and sounds of Fort Wayne's rivers.
Plus, Promenade Park will feature fun outdoor recreational opportunities for all abilities. The Auer Lawn will feature special grass that allows access for wheelchairs, specialized boat cradle systems allowing easy access to enjoy Fort Wayne's rivers, and many more thoughtful details that allow people of all abilities to discover Fort Wayne's riverfront.
These new developments will only enhance Fort Wayne's current offerings including our arts and cultural experiences at Science Central, The Old Fort, and the existing outdoor recreation opportunities including kayaking, boat rides, bike trails, and more.
We can't wait for you to experience Fort Wayne, Indiana's new visitor assets!