Ladies, do you enjoy playing tennis or golf? What about supporting a good cause while having fun with your girlfriends?
Then round up a doubles partner or a golf team of four for the Vera Bradley Classic!

Vera Bradley will be holding its annual Vera Bradley classic on June 1, 2012 – June 4, 2012. This amateur women's golf and tennis charity tournament is the largest in the country.
The tournament will kick off with a two day women's doubles tennis competition at Wildwood Racquet Club. One hundred and fifty women will be competing in the tournament playing in various divisions.
Following the conclusion of the tennis tournament, there will be a Tennis Celebration Dinner. The celebration will include a cocktail party, dinner, a featured exhibition match and a silent auction to benefit the Vera Bradley Foundation for Breast Cancer.
The golf tournaments will be held on Monday, June 4th at the Fort Wayne Country Club and Sycamore Hills Golf Club. There will be a 9-hole and 18-hole tournament that players can choose to play in. Over 400 women will participate in the day.
Monday evening there will be a Golf Celebration Dinner. The night will include a cocktail party, dinner and a silent auction.
If you want to support the Foundation, but are not a tennis player or golfer you can still get involved!  There are opportunities to volunteer at the various events happening throughout the weekend, or you can also pay to attend one of the celebration dinners.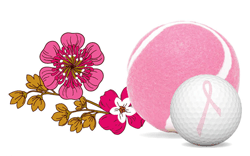 The 2011 Vera Bradley Classic raised $945,185 over the weekend, and since the tournament was established in 1994, it has raised more than $8.2 million dollars for breast cancer research.
Event Schedule:
Women's Doubles Tennis Tournament
Friday, June 1, 2012 – Saturday, June 2, 2012 Wildwood Racquet Club 508 North Hadley Road
Match Play Schedule Depends on Player Rating
Tennis Celebration Dinner Saturday, June 2, 2012 at 6:30pm Wildwood Racquet Club 508 North Hadley Road
Women's 9-Hole Golf Tournament Monday, June 4, 2012 Fort Wayne Country Club 5521 Covington Road
Morning Tournament begins at 7:30am
Afternoon Tournament begins at 12:00pm
Women's 18-Hole Golf Tournament Monday, June 4, 2012 Sycamore Hills Golf Club 11836 Covington Road Assigned Tee Times
Golf Celebration Dinner Monday, June 4, 2012 at 6:00pm Sycamore Hills Golf Club 11836 Covington Road
To register your team or learn more, visit www.verabradley.org/classic