Valentine's Day is quickly approaching, and Fort Wayne, Indiana has plenty of restaurants where you can celebrate this romantic holiday.
Some restaurants are going all out for the occasion and offering a feature menu for Valentine's Day. If you're planning a special day this February, check out some of these places and make your reservation soon.
The Best Valentine's Day Restaurants in Fort Wayne, Indiana
Nawa
Nawa is a trendy, locally-owned restaurant in downtown Fort Wayne that serves tasty dishes inspired by cuisine from Thailand, Japan, Vietnam, and Indonesia.
For their Valentine's Day menu, they are planning a three-course meal for couples. Their featured entrees include Pan-Seared Sea Scallops with Thai Red Curry, Lobster Curry Pasta, and Chilean Sea Bass with a Japanese Yuzu Sake Butter Sauce.
They will also pair the course with a bottle of Love Story wine, which has an interactive app you can download that tells your love story! The three course meal will also include appetizers and desserts to share.
For directions and hours, visit their website.
Paula's on Main
Paula's on Main (or just "Paula's" to locals) is known for its delicious seafood cuisine and friendly staff. It's also a very popular Valentine's Day destination. Paula's starts taking reservations for Valentine's Day as early as Halloween! It's no surprise, because they offer a wonderful menu year-round.
This Valentine's Day, they will serve a Salmon feature and other choice entree. They will have their regular desserts available, in addition to a special Valentine's Day chocolate cake.
Visit their website to get a feel for their cuisine, and make sure to reserve early.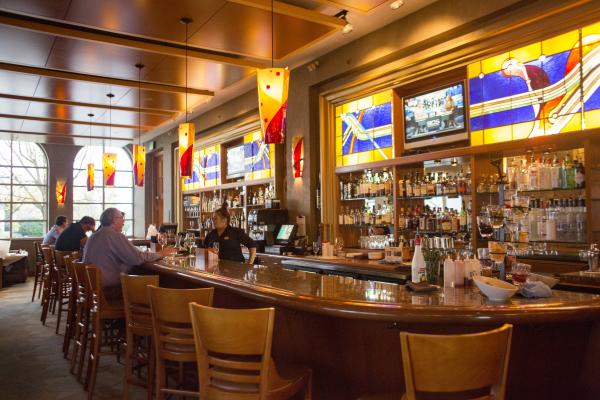 Eddie Merlot's
At Eddie Merlot's, you can enjoy an upscale dining experience and great food. From February 11-17th, Eddie Merlot's is offering a Valentine's Day menu, which includes a "Turf" of a 16 oz. bone-in filet mignon, and "Pick Your Surf" entree, where you can choose from a 10 oz. lobster tail, crab legs, blackened scallops, or shrimp scampi. In addition, there will be a feature appetizer and dessert.
Add on the romance package when make your reservation to receive a dozen roses and half bottle of champagne waiting for you at your table!
For details about their menu, pricing, and romance package details, you can check out their website.
Granite City Food & Brewery
Granite City Food & Brewery restaurant always has a seasonal menu and you can expect the same for Valentine's Day. The main course of the three-course menu will allow visitors to choose from a Top Sirloin entree, Chicken Limone, Herb Roasted Salmon, or Cajun pasta. There will also be appetizers and desserts as part of the three course meal.
Reserve your table at the Fort Wayne location.
BakerStreet
Many people love BakerStreet for its upscale atmosphere and savory dishes. While the details of the Valentine's Day menu are still pending, BakerStreet will plan on having a feature menu to mark the occasion. Their regular menu items offer great variety--everything from steaks to vegetarian dishes-- so couples will definitely not be disappointed.
You can view their full menu on their website.