If you've never seen a ballet, the evening of February 13 would be a good time to change that. Fort Wayne Ballet will be presenting "Love Dance" with two separate performances at the Parkview Physicians Group Arts Lab in the Auer Center at 300 East Main.
Patrick Simoniello, who is a guest faculty member and master teacher, says the work is a good one for persons who are not familiar with ballet because the pieces are shorter, more accessible and compact, and contain less "classical" ballet. Patrick expanded upon this saying, "Ballet is not dying, it's changing." And the fact that at least one piece in this performance contains some break dancing certainly attests to that!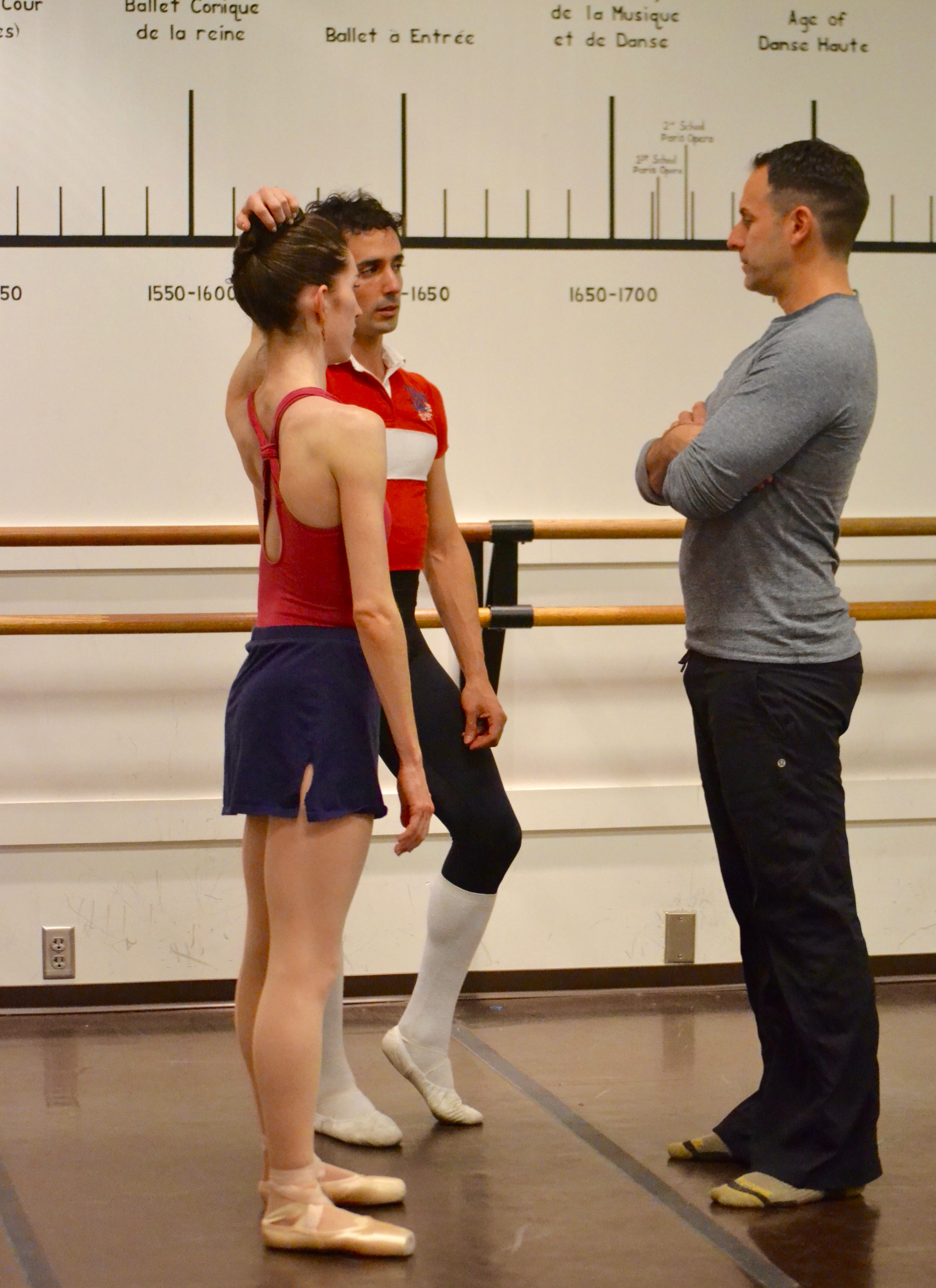 Ernesto and Caitlin visit with Patrick who was critiquing their rehearsal the afternoon we visited the ballet. You can sit on the ground floor of the Auer Center and enjoy the cooking of Pembroke Bakery while you watch dancers rehearse. 
In a change from the usual, dancers for the Fort Wayne Ballet are choreographing pieces for their peers. Austin Dowdy, an IU graduate who hails from Florida and has lived in New York, has chosen Brahms Concerto #2 for the piece he has choreographed.
Although "classical" in the sense of the style of music, Austin says he likes that the story of his piece is based on nature and not bogged down by a narrative as this moves the dancers beyond their comfort zones. Choreography takes "more thought and intention" and each work has its own "unique style and aesthetic".
Rising to the challenge of moving from dancing to choreography, Austin said he listened to the music and performed various moves while recording those. He then stitched together the footage, working on his conceptualization of the piece this past summer.
Once the Ballet's Nutcracker run was completed, he spent about 30 hours a week on polishing his work, with at least eight of those weekly hours in the studio. For someone with two other jobs, this doesn't leave much time for "goofing off". But Austin says that it's good mental conditioning to be that busy and that his other jobs are important because having a life outside of the ballet is important.
"It enriches why I do what I do."
Ticket Information
Love Dance--A romantic medley of love expressed through a range of stories that only the heart can know: Infatuated love, broken love, enduring love.
February 13 at 7:30 & 9 pm at the Parkview Physicians Group Arts Lab at the Auer Center for Arts and Culture, 300 East Main Street
LIMITED SEATING- order tickets here! 
*Special limited offer: "A Table for Two" including champagne, roses, chocolates and premium seating!