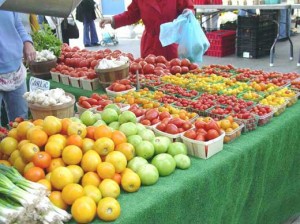 You may have thought that Fort Wayne's local Farmers Markets would be winding down around this time of year, but that is not the case. Many of our local markets are still going strong. I'll give you a quick rundown of when each Farmers Market will close its season:
East State is open through October 23
Clinton Street closes their year with October 29 being their last day
Main Street will have its last day on October 21
Salomon Farm ends its season with their October 5 market
Southside will remain open through December 3
Click here for a complete listing of local
Farmers Markets times, days and locations
. Just in case you were wondering, I would love to have a sample (or two) of some homemade pie or fresh salads that you make from our local vendors! Happy cooking, baking and eating healthy!