Get your creative juices flowing with the help of some vino! According to their website, 
Wine and Canvas
is a mobile business that brings the party to your favorite venues, corporate events, or living room! And of course, wine is a part of the experience and creative process. Artists instruct customers with step-by-step through re-creating the featured painting of the day. At the end of the event, you'll take home a work of art that you created. The price is $35.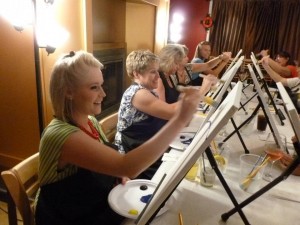 Be sure to check their
calendar
for venue details.  Current venue locations include
Biaggi's
, Naked Tchopstix, The Factory and Parkview Field, with new venues coming soon. The calendar is released on the 20th of each month. They also offer Cookies and Canvas Events for kids which are 2 hours in length for $20 per person and we supply the cookies. Private events for kids require a minimum of 10. They also offer private events. They require a 15 person minimum charge for a private event. This does not mean you must have at least 15 people attend, just that you will be charged for a min of 15 people even if you only have 6 people in your party. They can accommodate up to 80 people at a private event. They have tables, chairs and easels and can accommodate any number of people in a location of your choosing.
Insider's Note
: They provide aprons, but you may want to wear something you wouldn't mind getting paint on-- just in case! Here's to channeling your inner artist!