Valentine's Day, which occurs on February 14 for those of you who need a reminder, is an opportunity to show someone how much they mean to you. An effective way of getting that message across is to dine in a special restaurant. Two of my favorite spots to celebrate with my husband of 31 years include: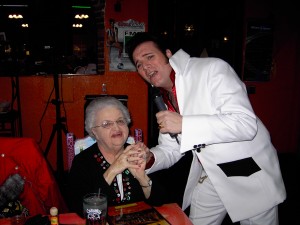 Cebolla's
While this may not seem like the obvious romantic restaurant, the owners provide something special at the Cebolla's on W. Jefferson that I think is unique among Fort Wayne restaurants. Brent Cooper will appear as an Elvis Tribute Artist on February 14 from 5:30 pm-9:00 pm. During that time, he will wander among the customers dressed as King, crooning famous ballads such as 'Love Me Tender' and 'Always on My Mind'. I heard him at Cebolla's in 2011 and I admit, he was good at imitating Elvis' individual sound. Cooper also posed for photos with those who requested it. The one I shot of him cheek to cheek with my mom was precious. While the food at Cebolla's is always great, this is a fun way to enjoy this special holiday. Cebollas Mexican Grill 5930 W. Jefferson 260.436.1650 **
Biaggi's
Biaggi's has been my favorite restaurant since they opened a decade ago. Great food and wait staff, reasonable prices, and an atmosphere that looks elegant but always makes me feel comfortable, no matter what I'm wearing, influences my decision to return time after time. I especially love their Fried Ravioli appetizer and Spinach Salad. Husband John and I have gone here with our grown kids but prefer eating here alone as our special place. Whatever you choose to do on Valentine's Day, be sure to express your love for your special someone on that day. They deserve it. 4010 W. Jefferson Blvd 260.459.6700 ** Add to these one of the great Valentine's Day
packages
from Visit Fort Wayne, and you are on your way to a memorable occasion! But what are your favorite romantic spots in Fort Wayne? Where will you be headed with your sweetheart this year?