Fort Wayne is not shy about showing off its German heritage, as evidenced by the number of microbreweries in town. Several breweries (Centrelivre, Berghoff and Falstaff) have come and gone over the past few three centuries, leaving beer lovers thirsty for more. Today, a few local breweries continue this legacy of brewing perfection.
Mad Anthony Brewing Co.
Since 1997, Mad Anthony Brewing Co. has packaged and distributed more than 50 beers throughout the northern half of the state.
Brewed locally and naturally and without preservatives, the fruits of their labor range in style and taste, from heavy lagers to light summer-y ales. Try a seasonal beer to get a taste of the product. You also can't go wrong with their Gabby Summer Blonde, an American style golden lager. You can find Mad Anthony's at restaurants all over the Summit City or at the "Original" Munchie Emporium, located near downtown at 2002 Broadway. Check out Mad Anthony's on the
web
.
Granite City Food & Brewery
Granite City Food & Brewery
is a chain of casual dining restaurants with on-site breweries. Be sure to check out the location on Coldwater Road in Fort Wayne, conveniently located near Glenbrook Square. Undecided? Try a Two Pull: a blend of Granite City's Northern Light and Bock beers. The beer is a 50/50 blend of the light bodied American lager and malty German Bock. A 25-ounce mug sells for $3.95.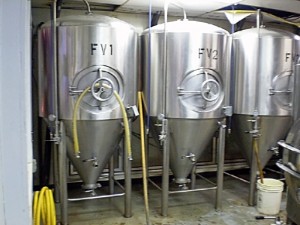 Tip: regulars may want to consider joining the "Mug Club, "which boasts 7,000 members locally. Members can take advantage of discounts, promotions and rewards. Those are two of my favorites. Any other great places to grab a cold one that you'd recommend?