Two of Fort Wayne's most unique local theaters, the Arena Dinner Theatre and First Presbyterian Theatre, are delighting audiences this month with their performances:   The Arena Dinner Theatre in Fort Wayne is unlike any other community theater in the area. It offers quality acting as well as a full dinner menu.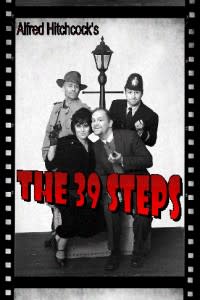 The current show is The 39 Steps. The 1935 film by Alfred Hitchcock centers on a man who meets a woman who claims to be a spy. When she is murdered, the man's life changes forever. While Hitchcock's film was primarily suspense-filled, the play version adds comedy and romance. Even if the stellar plot and acting were not engrossing, the meal would make up for it. Catered by The Bagel Station, it consists of Salad du Jour, fresh baked bread, Rosemary Parmesan Crusted Chicken Breast, blanched snow peas, garlic rice pilaf, and fruit tart. Vegetarian meals are available upon request and must be ordered when reservations are made. Show dates for The 39 Steps: March 2, 3, 9, 10, 16, 17 Box Office Hours: 9:00AM - 1:00PM Mon-Fri 9:00AM - 1:00PM on Show Dates. The theater opens 90 minutes prior to curtain. Doors and cash bar open at 6:15PM, dinner is served at 7:00PM and curtain time is 8:00PM. To purchase tickets by phone, call 260.424.5622. You may also purchase tickets in person at the theater located at 719 Rockhill St in Fort Wayne's West Central neighborhood.   Just down the street at First Presbyterian Church, Fort Wayne theater-goers are blessed to have a beloved actor return to the stage. Long-time Youtheatre Director Harvey Cocks stars in First Presbyterian Theatre's "You Can't Take It With You".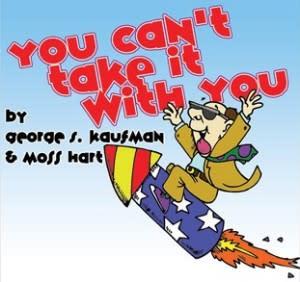 While offering non-stop comedy, the play candidly examines family life, causing audience members to question, what is normal? Thom Hofrichter directs this favorite of American theater which gained prominence in 1938 by winning an Academy Award for "Best Picture". Show dates: March 1, 2, 3, 9, 10, 11, 16, 17 Evening performances begin at 7:30pm. There will be a 2:00pm matinee performance on Sunday, March 11. Ticket prices: General Admission: $20 pre-sale ($24 at the door), Patrons 65 and older: $18 pre-sale ($22 at the door), Full time students (any age): Free with reservation to most shows (limited number of tickets for each performance). Thursday night preview performances: $10. $15 tickets are available for groups of 20 or more. Please contact the Box Office for further details. To reserve ticket with a credit card call 260.422.6329. The theater is located at 300 West Wayne (the corner of Wayne and Ewing Streets, just north of the Allen County Public Library).