For weeks, I kept seeing all these "likes" on Facebook for a place called Blue Stack Smokehouse.  I had no idea what it was until my husband came home and preceded to tell me this story about a guy he knows and how he's going to open this restaurant where he smokes all of his own meats. I knew right then that I would be going to this Blue Stack Smokehouse, but I didn't know how much my entire family would love it.  I'm pretty sure my husband has been there six times since they've opened…it's that good. Blue Stack Smokehouse, located at 3620 North Clinton Street, is locally owned and operated by David and Tara McLaughlin.  Dave grew up grilling old favorites with his Grandpa in his backyard.  As he got older, his backyard hobby became a passion and in 2005 he got his first smoker.  The many food items Dave threw out over the years have paved the way in perfecting his recipes and ultimately, the opening of Blue Stack.  He never dreamed grilling with his Grandpa would turn into a full-time profession.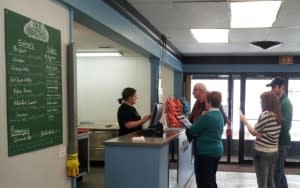 Blue Stack opened for business on December 27, 2012, and the first thing I heard about it was that they sold out of food during their first lunch rush, so there had to be something said for the food. My husband, his son and I went on their second day of business…I had to try it for myself.  There were no complaints.  I had a pulled pork sandwich and macaroni and cheese, my husband had ribs and potato salad and his son had the brisket.  The flavor had just enough smoke and the added choice of homemade barbecue or spicy barbecue sauce upped the ante. Absolutely wonderful! Even the sides are all homemade, the macaroni and cheese was creamy and flavorful, my husband raved over the bacon wrapped poppers and potato salad.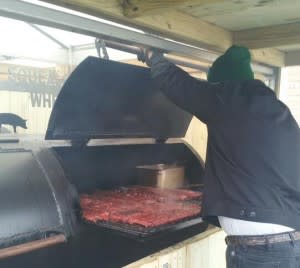 One word: affordable. For as much time and dedication that is put into the preparation of the entrees and sides, the prices are great. My family of three was able to eat for less than $25.  If we go out to eat anywhere else, we would spend upwards of $50 and the quality of food isn't even close to what you get at Blue Stack Smokehouse. Blue Stack is a must-try. If you haven't been here, yet, you're definitely missing out. And, they also offer catering, so if you have an upcoming party (think Super Bowl), this is the place to get ribs, chicken, brisket and pulled pork.  Check out the full menu online at www.bluestacksmokehouse.com or check them out on Facebook at Blue Stack Smokehouse. Hours of Operation are Monday through Saturday, 10:30 a.m. to 8:00 p.m.  They are closed on Sundays. For more information on catering, contact Dave or Tara at 260-755-6328 or via email on their contact page.