Fort Wayne is (finally!) catching up with the craft beer movement. A tasty new brewery and gastropub in the '07 -46807, that is- has just opened after a much-anticipated delay. Trubble Brewing, the brainchild and labor of love of Chad and Keli Hanke, was scheduled to open in the summer, but life, and the Bureau of Alcohol, Tobacco, Tax, and Trade (little delay with the proper alcohol permitting), can get in the way. Located in the former Chappells building along Broadway, it was worth the wait. The food is individualized, the beer fresh, and the atmosphere is sophisticated but casual. 
[[endteaser]]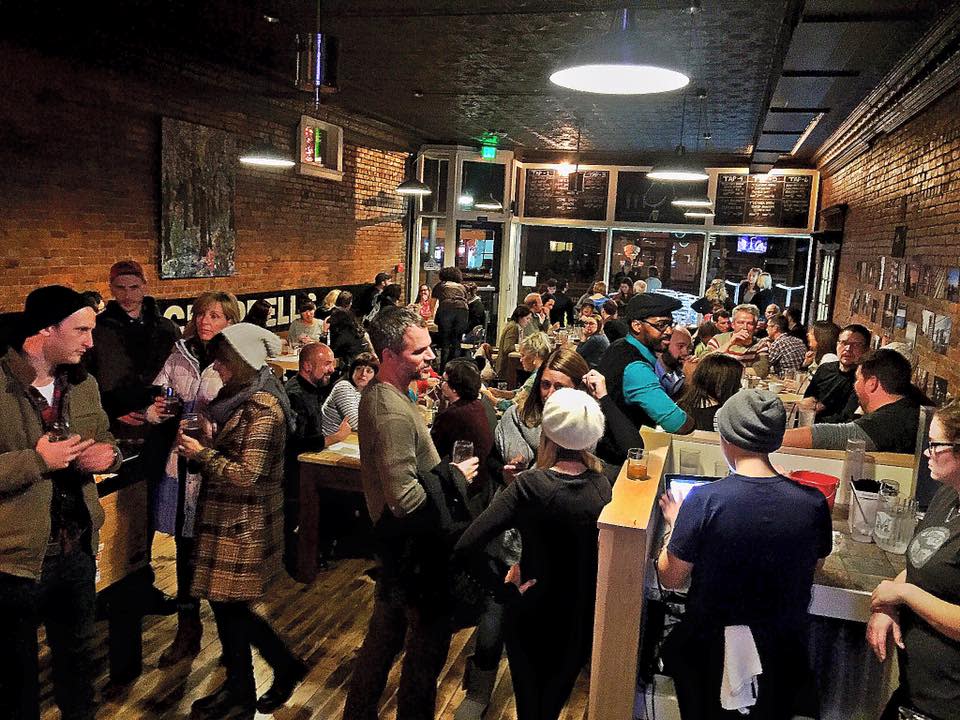 Several days before their grand opening on November 25, my husband and I were there for the "soft opening". We feasted on intoxicating eats. Curry coconut soup (just the right amount of heat), fried Gunthorp Farms drumsticks served with jalapeno honey (I will try this at home!), house salad, a beer and onion caramelized cheese spread (with the proper blend of smoothness-chunkiness), and a pickled vegetable appetizer (locally grown veg from Hawkins Farm in N. Manchester). The only regrettable of the night was that I couldn't order everything on the menu! The fancied-up sloppy jo, which is braised beef short rib with a "magic sauce", was reported to have been delectable.
The food exceeded my expectations. Each dish tasted like it was made especially for me - no cans were harmed (or opened)!
There is plenty of atmosphere. One-half of the restaurant is dedicated to the food.  High ornate-tiled ceilings, local artwork, clever chalkboard sketches, hardwood floors, and a tidy all wood bar round out the restaurant half. The other side of the building will be dedicated to the brewing. The attention to detail is superb; Trubble took the old awning from Chappells and re-purposed it into a backrest - clever! Did I mention Trubble is dog-friendly? Their spacious patio will accommodate furry friends.
Trubble will soon be featuring its own brews in the near future. Don't fret though, the beers currently being tapped are right refreshing. There are stouts, lagers, IPAs, and ales, a little something for everyone. If beer isn't your thing, Trubble serves wine as well.
Local ingredients and local brews are the angle, which means that the menu will constantly be morphing and evolving. How can you be sure your fav brew and gastro delight will be there when you are? Check Facebook for the menu or give 'em a call.  Stop in soon - you can't miss the huge awning out front. And eat and drink well.