The house is decorated, the kids have picked out their costumes, the candy bags are ready to be filled - all that's left to do is start the trick or treating fun! Whether you're looking to get the maximum use out of the costumes, or just want to celebrate the day close to home, it's good to know when and where to go!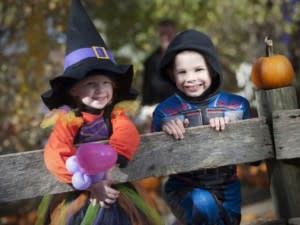 If kids are dying to show off their costumes more than once, take them to the Wild Zoo Halloween. You can explore the zoo while trick or treating, plus there different characters on-hand and activities for the kids. Wild Zoo Halloween goes is open on Halloween, and the hours are before regular trick or treating starts. The hours for Wild Zoo Halloween are Thursday, October 31: HALLOWEEN + Pumpkin Decorating Workshop, 1-6pm. Admission is $4 for adults and $8 for children. If you'd like to keep with the theme of family-friendly trick or treating (and maybe even stay indoors and warm) area shopping centers are offering trick or treating on Halloween. Both Jefferson Pointe and Glenbrook Square will have trick or treating from 5-7pm on Halloween. At Jefferson Pointe, participating stores can be identified by the orange pumpkin on the door. For a complete list of participating stores at each mall, check their websites for updates here and here. Georgetown Square will also have trick or treating + other special Halloween activities from 5:30-7pm.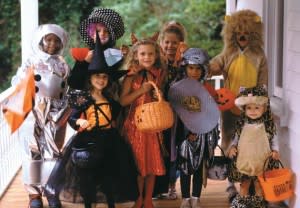 Of course, there is always the traditional route of dressing up and running around the neighborhood on this night of fun and fright (but I like to stay on the fun side of things). The city of Fort Wayne trick or treating hours are from 6-8pm on October 31st, giving trick or treaters plenty of time to get all of the sugar they desire! Neighboring communities New Haven, Leo-Cedarville, and Huntertown will also have trick or treat hours from 6-8pm. As someone that took trick or treating very seriously as a child, and who has a little niece and nephew, here a couple of my tips for making trick or treating a success!
Dress for the weather - but don't sacrifice the costume. This might sound silly, but kids take their costumes seriously! The weather can change at a moments notice - this is Indiana after all! I remember as a child getting so mad when my mom made me wear a coat over my newest princess dress. So if it was really cold she would layer my brothers and I up with long sleeves and sweatshirts under our costumes. I'm sure we looked like giant marshmallows, but we were happy everyone could still appreciate our costumes.
Have a good candy carrier. Nothing is more disappointing than getting halfway through the neighborhood and the bottom of your trick or treat bag falling out and candy going everywhere. Places like Dollar General, Walmart and Target have cheap, but durable, bags and buckets made just for getting the maximum candy haul possible!
Go in a group, stay in a well lit neighborhood, and have an adult present. I sound like my mom, and I'm sure this gets the giant eye roll from the older kids, but looking back now at my trick or treating days, they're good rules of thumb. I always trick or treated with my brothers, cousins and friends and it was so much fun! Sometimes the little kids went too slow and the older kids went too fast but it's still a fun memory. As for having an adult, for some this may seem like a no brainer, but it's probably really easy to scoot the kids out the door and get a little peace before they come home on a sugar high. Having someone along that can keep the kids moving and also keep a little watch on others that are out and about can give everyone a little piece of mind! (And can be a good excuse to dress up yourself, or in my, case dress up your dog!) Fort Wayne has tons of trick or treat friendly neighborhoods!
Whatever you decide to do to celebrate Halloween, make sure you and your little ghouls, goblins, princesses, and pumpkins have fun! Do you have any other places around Fort Wayne that you like to go for trick or treating ? Let us know in the comments below!