This post is part of our Three Rivers Festival feature series. Click here to view all Three Rivers Festival posts.

Nothing says Three Rivers Festival time like Junk Food Alley! Junk Food Alley is located at Headwaters Park in downtown Fort Wayne, right next to the pavilion. And if all else fails, just let your nose lead the way!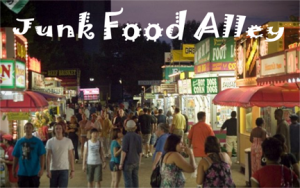 Open daily from 11 am - 11 pm, you can satisfy your hunger or those nagging cravings anytime. In my honest opinion, no one can do Junk Food Alley like Fort Wayne.  You will see the 'normal' crowd pleasers like elephant ears, lemon shakeups and fried tenderloins. The list doesn't end there (and just to get your mouth watering a little more) why not try a deep fried candy bar, Twinkie or cookie dough.  And new this year (drum roll please) red velvet funnel cake. Mmmmm. If you are looking to have lunch with a friend or to take the whole family downtown for dinner, don't worry, there is more than just desserts at Junk Food Alley. You can enjoy turkey legs, spiral spuds (one of my personal favorites), corn on the cob, gyros and donut burgers. What's a donut burger? Just like it sounds - a burger patty between two glazed donuts - you can add lettuce and other veggies if you want, but why try to be healthy now?