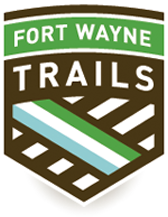 Looking to stay active and utilize our extensive trail system this summer? This may be the perfect opportunity! Fort Wayne Trails is proud to host weekly
Trek the Trails
events, a series of free, guided community bike rides. Participants will enjoy scenic, winding routes along the Rivergreenway, The Wabash & Erie Canal Towpath Trail, the Aboite Trails, the Pufferbelly Rail-to-Trail, and the Solomon Farm Trail. Now in its 3
rd
year, the event runs May through October, featuring 22 Tuesday evening rides, 4 Saturday morning rides, and a stargazing ride in October.  Each Tuesday evening ride is about 6 to 10 miles long. Saturday rides are longer, averaging 16 to 24 miles. The best part? This is an all-ages event, so it's perfect for families, couples, or individuals looking to find community among bike enthusiasts and trail lovers. There are a few ground rules: Children under 18 must be accompanied by an adult, and all riders must wear a helmet.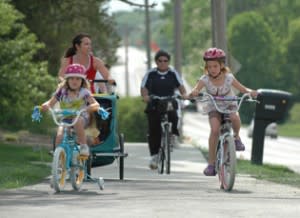 "We never know what the catalyst will be for someone to get on a bike, but once they are riding, data shows people are healthier, happier and more engaged in the community," says Lori Keys, Executive Director of Fort Wayne Trails. "The Trek the Trails rides provide encouragement in the form of tour leaders and support from other riders for people of all ages to get out and experience our trail network. We're glad that the growing, popular Trek the Trails rides are playing some role in our residents discovering the joys of bicycling again!" Fort Wayne is blessed with one of the finest trail systems in the region. Let's get out and enjoy it. For a full schedule, visit
Fort Wayne Trails' website
.